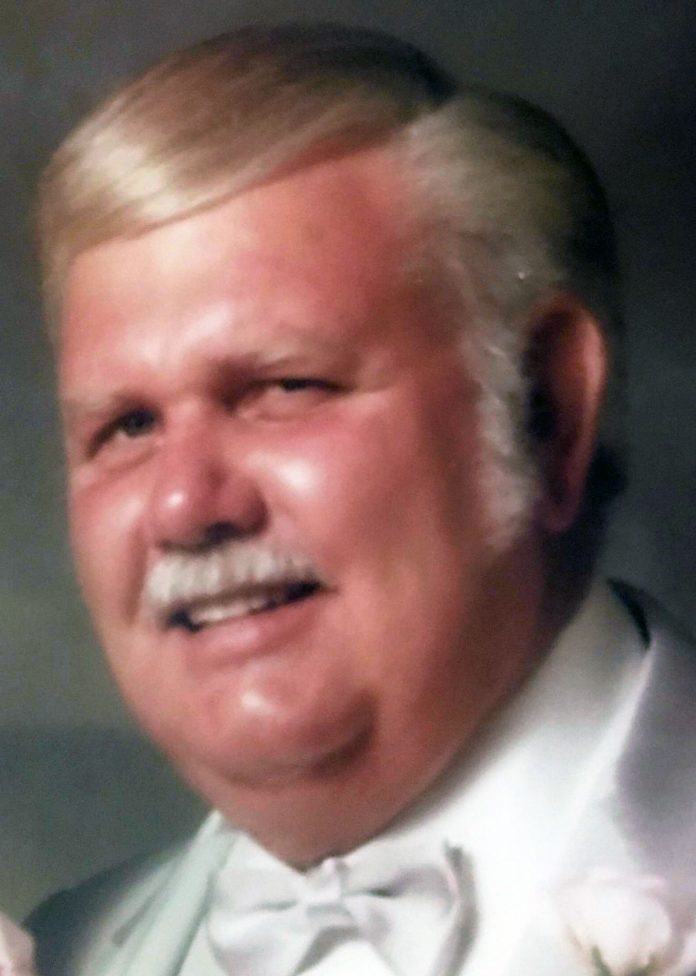 Kenneth Cannon Fawcett, age 90, passed away in his home in Highland, CA, on Friday, April 26, 2019. He was born in St George, Utah to Albert Kenneth and Leonora (Cannon) Fawcett on February 14, 1929. He was preceded in death by his wife of 54 years, Patricia MARLENE (Quinn) Fawcett, brother, Albert CLARK Fawcett, sister, Catherine Brown, grandson, Jaron Fawcett, granddaughter, Sara Thomas, and two great-grandchildren.

He is survived by his children, Marla (James) Thomas of Georgetown, TX, Teri (Harold) Miller of Susanville, CA, Quinn (Maria) Fawcett of Georgetown, TX, James (Rebecca) Fawcett of Orem, UT, David (Tamie) Fawcett of Yucaipa, CA, Robroy (Jane) Fawcett of Escondido, CA, Benita (Scott) Riley of Oak Glen, CA, Cathy Wilkins Rees of Highland, CA, grandchildren, Lisa (Daniel) Anderson, Jason Thomas, Jessica Thornock, Rosalina Castano, Joseph Thomas, Sandra, Thomas, Mark Miller, Jennifer Miller, Marie, Quinn Sansom, Jonathan Fawcett, Russell Fawcett, Spencer Fawcett, and Patrick Fawcett, Brandon Fawcett, Karah Gray, Marlaina Fawcett, David Fawcett, Timothy Fawcett, Jess Fawcett, West Fawcett, Lindsey Gilsen, Nicole Poll, Stephen Fawcett, Rachelle Harmon, Robroy Fawcett, Andrew Fawcett, Michelle Hatch, Quinn Riley, Megan Riley, MacKenzie Riley, Ryan Riley, sister, Norene Taylor of Apple Valley, CA, brother, Edward "Ted" Fawcett of Highland, CA, sister, Mary Jo Pennington of Hurricane, UT, 33 grandchildren and 52 great-grandchildren.
Kenneth's great-grandfather, David H. Cannon, was President of the St. George temple for 33 yrs. His great-great-grandfather, George Cannon, made Joseph Smith's death mask.

When Ken was approximately 6 months old, his family moved to Springdale, Utah where his father worked building trails and quarrying and dressing the stone used in the bridges seen throughout the park. Ken would tell tall tales of riding alone in a boat on the Virgin River at 5 years old. Ken's family moved from Springdale back to St. George in 1935 when he was 6 years old.

Ken would often spend time on his grandfather Albert Orchard Fawcett's ranch in Diamond Valley, about 13 miles outside of St George. He enjoyed his time on the ranch and talked of riding in the horse-drawn wagon into St George. In the Spring of 1942, the family moved to the ranch in Diamond Valley where his father brought about $1,000 worth of livestock, calves, pigs, and horses. His father wanted to make a go of it. Unfortunately, an early frost killed the vegetable garden and the chronic water problems forced his dad to tell his grandfather he should sell the place.

In January 1943, thee family then moved to Basic Townsite, now, Henderson, NV. His father had landed a job in October 1943 on the Guard Force and belonged to the Auxiliary Military Police. His dad also worked as a Deputy for Clark County. While there, Ken got a job at local bowling alley.

In October of 1944, his mother and father decided to allow Ken to join his father who was going to California to work as a union plumber. When they arrived in California, 16-year-old Ken was told by his father "if he wasn't going to school, he had to get him a trade". Ken joined the plumbing union and was a journeyman at seventeen years of age. He made as much money as his dad before withholding taxes were taken out. Ken and his dad worked at the shell plant at Kaiser Fontana for several months. He and his dad worked in Inyokern for a short time and returned to San Bernardino. Soon after, Ken got his Journeyman's card. The family moved into Waterman Gardens, then to a house on Tippecanoe, and later bought a house on Bothwell in Colton.

While in Colton, my father attended the Church of Jesus Christ of Latter-day Saints Colton Ward where he met Patricia MARLENE Quinn. During this time, Ken joined the Navy as a Sea-Bee and was sent to Guam where he wrote many letters to his sweetheart. Ken was honorably discharged from the Navy. Marlene graduated from high school and headed off to BYU. On April 13, 1952, Ken, his sister, Norene, and brother-in-law, Jack Sutton, met Marlene in Las Vegas, who had arrived from Provo, UT by bus. Ken and Marlene were married in a small chapel. Marlene returned to Provo by bus to finish the semester. Ken returned to San Bernardino, where his mom had quickly thrown together an impromtu reception and baked a wedding cake, not knowing Marlene was not coming home with Ken.

Once Ken and Marlene were reunited, a reception was held in her parent's home on Grant Ave in Colton. On February 17, 1953, they welcomed their first child, a daughter, Marla Jean. A few days later, they were all sealed in the Saint George Temple. They lived in Colton and in Twenty-nine Palms. Ken got a plumbing job working on a new housing project in Colton, circa 1956. By this time, they had three children and were looking for a new home. They liked the homes and bought an inside corner home of this "u" shaped development, which was perfect for a safe place to live and play for their growing family. He beautifully landscaped the home, and built a huge patio, sand box, and hanging bars for his children. It was a wonderful place to live in the 1950's.

During this time, Ken opened a plumbing business called "Leaky Fawcett Plumbing Service". Unfortunately, he had to close it after a short time.

In 1960, Ken and Marlene's sixth child arrived and they realized they needed a bigger home. Ken had been doing plumbing work for a man named Snodgrass, who owned a business moving houses in San Bernardino. It was through this man that he learned that some homes were up for action on Bunker Hill next to San Bernardino Valley College, near Marlene's family home. Ken and Marlene found a beautiful, large Spanish-style home was up for auction that Marlene had admired as a child. It was the former home of the President of San Bernardino Valley College.

With the help of his family, Ken managed to scrape up about $1,100 to bid on this house only to find there was no minimum bid. Ken had crawled under the house and knew it was well built. It was large and u-shaped, requiring it to be moved in three sections off the hill. Due to this risk, no one else wanted to bid on the home. So, not to look cheap, he bid $5 and won. When it was moved, they almost lost the bedroom section coming down the hill.

Ken and Marlene soon found an acre in Highland, about 10 miles across town. In December of 1962, the family moved into the back bedroom of the house. It became a lifetime project. In January 1964, Benita Marie was born. She was the last of his seven children.

Ken remained a union pipefitter, retiring after 30 years at age 46. He often worked at Kaiser Fontana, Trona, and Mountain Pass. Marlene had been working in the tax business and she had opened her own tax business, Fawcett Tax Service. Ken joined Marlene in the business and when Marlene later opened Taxtor Educators, Ken traveled with Marlene as she taught her seminars.

Ken and Marlene remained in their Highland dream home after finishing raising their children. Marlene passed away in their beloved home on January 1, 2007 after an over eight-year battle with ovarian cancer.

Ken and Marlene had five of their seven children go on missions for The Church of Jesus Christ of Latter-day Saints. Five of seven children graduated from college, with the other two following Ken into pipefitting.

Ken served in and attended the Colton Spanish Branch even though he was never fluent in the Spanish language. He took Spanish and other classes at the local junior college, after receiving his GED. He could relate to those overcoming challenges in order to join the church.

Ken loved Zion Nat'l Park and it became his family's favorite vacation spot. Many summers were spent camping, hiking the trails, and swimming in the Virgin River, often with his siblings and their families. He loved his family.

Funeral will be held at 1 o'clock, Saturday, May 11, 2019 at The Church Of Jesus Christ of Latter-day Saints, Highlands Ward, 7000 Central Ave, Highland, CA. Internment will follow at Montecito Cemetery in Colton, CA.