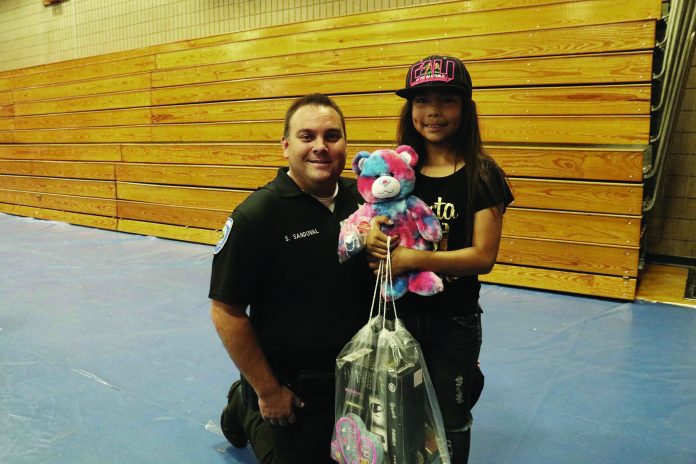 Approximately 2,500 children received toys and school supplies at the Hernandez Community  Center in Downtown San Bernardino on July 23.
The Kids Wish Network, in partnership with the City of San Bernardino Parks and Recreation Department, delivered over $500,000 worth of toys–ranging from board games, stuffed animals, and art and schools supplies–to children. Families were given small meals, consisting of a hotdog and chips, and provided live entertainment.

This is the second time in two years the nonprofit visited the city.  The program was designed to help at-risk children who face life-altering challenges such as abuse, neglect, illnesses, homelessness and poverty.
Kids Wish Network Marketing Manager Kendra Kenney explained city leaders requested for the nonprofit to provide further assistance. According to Councilwoman Virginia Marquez, Kenney was among the first to call the city after the Dec. 2 tragedy.
"We developed a deep feeling for this community," Kenney said. "We usually don't come back a second time. However we couldn't refuse."
Law enforcement officers from the San Bernardino Police Department and the San Bernardino County Probation office accompanied the children through the room, helping them choose items they liked.
San Bernardino Police Officer Shaun Sandoval said there is nothing better than helping children and seeing them happy. "It's enjoyable to see kids with smiles on their faces and having fun. This creates a positive experience for them."
Kenney believes law enforcement involvement with the Holiday of Hope tour is an important component to improving relationships in the community.
"Events like these build a better and positive relationship between residents and law enforcement," she said. "The kids get to see policemen [and women] in a good light."
Parks and Recreation Interim Director Jim Tickemeyer said holding the event demonstrates that San Bernardino continues to take positive steps.
"It's important for us to serve our communities. Events like these not only revitalize our communities, but our staff. There are a lot of tough days, but days like these off set those days. Events like these will resonate in our community for a very long time."