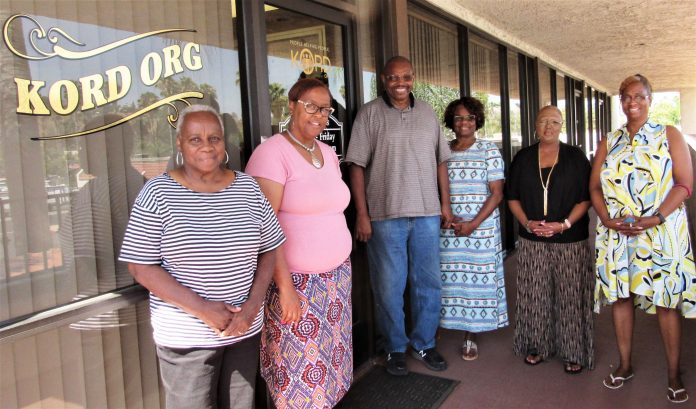 Founded in 2018 through the Dr. Stephanie Palmer Ministries, the KORD ORG (short for Kingdom Outreach Resource and Development Organization) is based in Colton and provides charitable and social services that create and develop greater humanity. According to Palmer, the Founder-President of KORD ORG, the purpose of the organization is to "meet the needs of those in the community who are disadvantaged in any way. Our purpose is to provide no cost services and goods to them that they may not be able to obtain on their own based on their economic status."
KORD ORG is a short walk up a winding staircase and into a headquarters that oozes peace and tranquility to anyone who comes through the door. Visitors are greeted with a friendly smile from staff members and treated like family. Palmer said each person has complete follow-through care and listening to each person's needs and lining up a clear strategy for solving those problems is only the beginning of the process. "I like to find a need and solve that need," shared Palmer.

Services offered at this time include:  Scan, Fax and Copy Services, Employment Resources, Computer Lab, Clothes Closet (men and women's items), Resume Writing, Interviewing Tips, Voucher Program, Re-entry Program, Financial Coaching, Notary Services, Cal-Fresh, Medi-Cal, CalWorks, Mailbox Services, Rehabilitation Placement Assistance, Shelter Placement Assistance, Celebrate Recovery, Leadership Development, Bible Studies and Prayer Meetings.  
One exciting update for the KORD ORG staff took place on Tuesday, July 16 through Riverside/San Bernardino County Services. All staff members began training to provide CalFresh, Medi-Cal and CalWORKs Services. When the County offices are overloaded, they will be referring clients to KORD ORG for specialized individual attention. Once the training is complete, people will be able to report to KORD ORG for one-on-one help instead of finding themselves sitting for hours at the County offices.
In the seven months they have been serving the public, the KORD ORG staff have changed the lives of many individuals, but they are looking forward to seeing more people come through their door to get help with their needs.
With KORD ORG's Core Values given as 1) Being Client-Focused, 2) Holding Personal Integrity of Trust and Honesty and 3) Compassion, their work is done with loving concern for all their clients, ensuring they are to be served in a safe, non-judgmental environment. "Our organizational focus is to make a positive difference in the lives of others," said Palmer.
Current needs for the organization include clothing (men's, women's, children and infants). They need hygiene products and blankets. The computer lab would provide greater use to the public with additional computers, and they are actively looking for a food bank that will allow them to distribute food to those who are hungry. They also need a new vacuum cleaner, a van or bus to make pick-ups and deliveries, and of course, monetary donations are appreciated to keep this work going strong. Located upstairs at 1076 Santo Antonio Drive, Suite K in Colton; the office is open Tuesday through Friday from 10 a.m. to 6 p.m. Their telephone number is 951-446-5550 and their email is Kord8@yahoo.com.