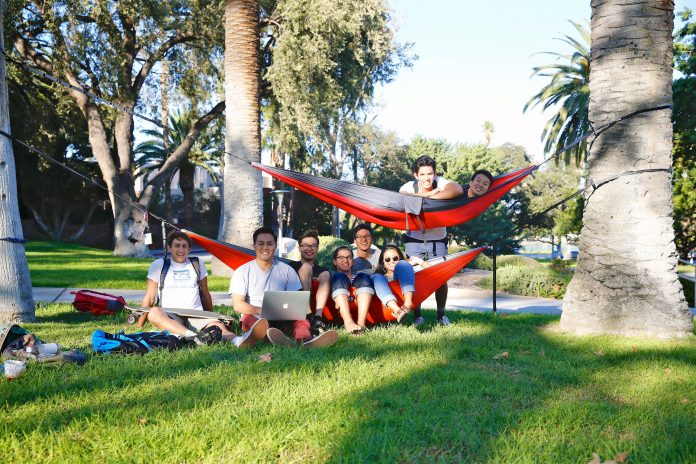 La Sierra University recently announced its participation in an expanded transfer pathway for community college graduates that provides an opportunity to earn a bachelor's degree in two years.
The university is one of 36 independent nonprofit universities and colleges around California that are supporting a new formal agreement between their umbrella organization, the Association of Independent California Colleges and Universities, and the California Community Colleges Chancellor's Office. The arrangement paves the way for AICCU member institutions to implement the Associate Degree for Transfer, or ADT program currently used by the California State University and the community colleges systems to streamline a community college student's entrance into a four-year degree program as a junior without the need to repeat lower-division classes.

A memorandum of understanding was signed by AICCU President Kristen Soares and California Community College's Chancellor Eloy Ortiz Oakley to put such a roadmap in place for students who want to transfer to AICCU institutions. The agreement stipulates numbers of community college units to be accepted by participating schools, student advising and financial aid access requirements, and further strengthens the commitment of California's independent nonprofit higher education sector toward the access and success of students, and the affordability of quality education across the state.
Under the AICCU and community colleges agreement, La Sierra University committed in July to guaranteeing admission for students who graduate from a California community college with an Associate in Arts for Transfer or an Associate in Science for Transfer and who meet La Sierra application criteria into the university's ADT pathways. For these students, the university will accept a minimum of 60 units transferred from community college, thus assuring that the students will be able start at La Sierra as juniors.
La Sierra is accepting 19 different ADT programs into 44 bachelor's degree programs. For example, a student with an Associate in Science for Transfer in kinesiology can seamlessly move into La Sierra's Exercise Science Bachelor of Science degree, or a student with an AS-T in chemistry would have five bachelor's degree options available in chemistry, biochemistry or biophysics. La Sierra ADT transfer program information is available at admissions.lasierra.edu/transfer-pathways.
"We are delighted to participate in the Associate Degree for Transfer program," said La Sierra University Provost Joy Fehr. "We have long wanted to develop clear pathways between students who complete university preparation coursework at community colleges and La Sierra University. Through the Associate Degree for Transfer initiative, we look forward to joining our local and state-wide higher education partners in strengthening educational opportunities for students and in making a positive difference in students' lives, their families' lives, and their communities."
For fall ADT program enrollees who engage in fulltime study and meet all class and grade point average requirements, graduation from La Sierra University is guaranteed in two years. Due to class scheduling, ADT transfer students who start at other times during the school year may need to take classes beyond the two-year time frame.
"AICCU has been actively engaged with Governor Jerry Brown's administration and the California Community Colleges Chancellor's Office to open up a guaranteed transfer pathway for community college students to transfer to an independent California institution," said AICCU President Kristen Soares. "Our commitment today will provide tremendous help toward creating new regional college access opportunities for transfer students to attend an institution that best meets their educational goals and increases their opportunity to succeed."
California's independent, nonprofit colleges and universities enroll about 8,500 transfer students annually and with this partnership with the California Community Colleges, hope to increase that number, the AICCU stated.
"Projections from the Public Policy Institute of California say the state will by 2030 have a shortage of 1.1 million workers holding a bachelor's degree needed to meet workforce demands," said Chancellor Oakley. "The Associate Degree for Transfer program is vital to our economy, and we are proud to work with the Association of Independent California Colleges and Universities in providing our students additional opportunities to further their education and help guarantee their chances of achieving upward social mobility."
In total, AICCU represents 82 institutions, including La Sierra University, and more than 340,000 students across the state.AICCU institutions serve nearly 189,500 undergraduate students. AICCU colleges and universities include comprehensive research institutions, specialized professional schools, liberal arts institutions, faith-based schools, as well as campuses that focus on the arts and those that offer non-traditional study programs.
Students interested in learning more about the ADT program at La Sierra University may email ADTinfo@lasierra.edu, or call 951-785-2380 or 951-785-ADT-0.For general information on the ADT pathway, visit www.aiccu.edu/transfer