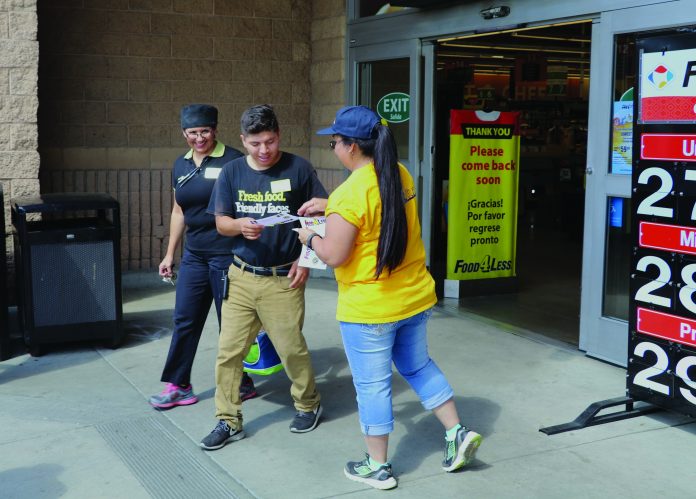 Dozens of labor advocates held a protest outside the entrance of the Food 4 Less store in Colton on Friday to demand higher wages for employees.
Labor rights organizers from United Food and Commercial Workers Local 1167, together with progressive activists, passed flyers to customers entering the store while chanting, "lower wages got to go."

According to UFCW Communications Director Peter Waasdorp, negotiations with the grocery chain's parent company, Kroger Corporation, have been slow. This is the fourth protest the union has held outside Food 4 Less stores. Previous pickets have been held in Riverside, Los Angeles, and San Diego.
Kroger encourages additional bonus payments and has proposed reducing hours for workers, explained Waasdorp. He said that's not good enough for families that are struggling to make ends meet.
"Not a lot of progress has been made," Waasdorp said about ongoing negotiations. "They come with us with a list of takeaways."
Waasdorp confirmed the average hourly utility clerk at Food 4 Less makes $10.40 and the average general clerk earns about $15.77 per hour. Individuals like Jerry Harris and Charlene Herrera receiving bonuses is not enough; both are hoping Kroger provides them with better pay and benefits.
"I love my job," said Harris, who has worked for the large grocer for 28 years. "We're looking for a fair contract to help us support our families. Otherwise, we're going to be forced to revert back to the system."
Herrera, a bakery manager who has worked at Food 4 Less for 21 years, believes giving workers bonuses is not the same as providing them better contracts.
"It's not fair and it's not right," she said.
Representatives from Kroger were not immediately available for comment. However, the manager at the Colton store–who did not wish to be identified and directed questions to the regional offices–provided IECN with a prepared statement from Kroger.
"Unions are asking customers to boycott our stores," reads the statement. "Why they are doing this is very hard to understand, given the values of our proposal. Contracts aren't settled by boycotts. They are settled by parties willing to bargain in good faith…We want to reach an agreement."
In the statement Kroger also reiterated that it provides more money in associate paychecks every year and maintain health benefits.
---
Join our newsletter for weekly wrap-ups of our community coverage, exclusive advertising opportunities and local business specials!