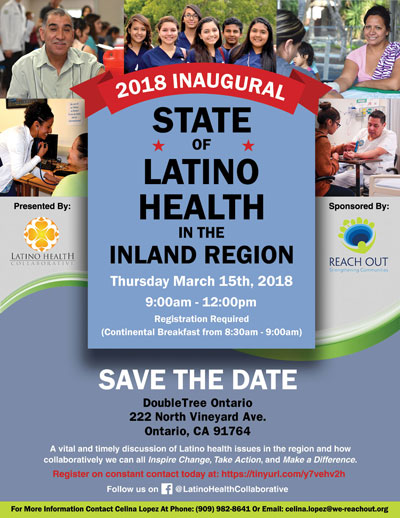 The Inland Empire has made great strides toward understanding what really makes a healthy community and healthy families. At the 2018 Inaugural State of Latino Health event, more than 200 people will gather to discuss the Inland Regions' health issues in our Latino Communities and how collaboratively we can Inspire Change, Take Action, and Make a Difference. This free event will take place on Thursday, Mar. 15th from 9:00am – 12:00pm at the Double Tree Ontario Hotel located at 222 North Vineyard Ave., Ontario, Calif.
"We are experiencing changing times and our focus and interchange of ideas will be centered on how the current policy environment is impacting health, how cultural competency by healthcare providers improves health outcomes, and why increasing the diversity of our health professionals is of critical importance," said Celina Lopez, Manager, Latino Health Collaborative at Reach Out.

Space for the State of Latino Health in the Inland Region event is limited and pre-registration is required at http://conta.cc/2t5KOcw or by calling Celina Lopez at 909.982.8641.
The Latino Health Collaborative (LHC) was launched in November 2004 as a group of community stakeholders focused on finding ways to increase access to care and to eliminate health disparities. Since its inception, LHC has garnered the reputation as a leader in community organizing, coalition building, and health policy advocacy, with members representing faith- and community-based organizations, county behavioral and health departments, community clinics, hospitals, school districts, and representatives of local and national elected officials.