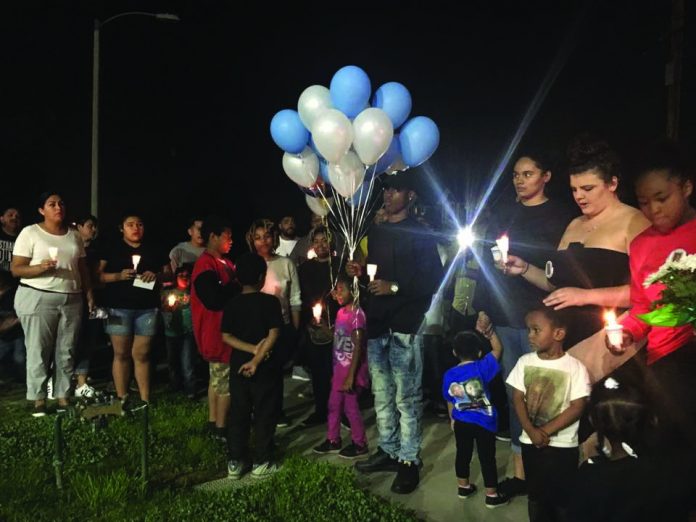 The one year anniversary of Jason Spears' death brought tears from the young boy's family and friends during a memorial event on Monday evening.
In spite of the solemness, however, there was an underlying message by faith leaders who continue to work towards reducing gun violence in San Bernardino.

"This fight for hope, freedom, peace, and love is for all of us," said Victory Outreach Pastor Rick Alanis. "As long as we have each other, there's nothing we cannot stop and overcome."
Approximately 50 people held a prayer vigil at the Circle K on the corner of Orange Street and Highland Avenue, feet away from where the 12-year-old Spears was shot and killed by a drive-by shooter on the night of March 13, 2016.
Victory Outreach, a church that strives to help gang members and substance abusers seek better lives, helped put together the vigil for the Spears family.
"We just hope to be that shining light for our community," said youth leader Lawrence Carter.
Shortly after the shooting, Aaron and Erica Griego decided to transform its residence into the 'Highland Lifegroup' home to give youth in the neighborhood a safe place to gather.
Among those who benefit from the weekly prayer meetings is Spears' cousin Terrance, who was wounded in the fatal shooting. The 15-year-old said he's received a lot help from the community and remains grateful for their unconditional support.
"They have the heart, and I'm thankful," Terrance said. "They've helped bring us all together."
Victory Outreach has helped establish two more 'Lifegroup' homes located near 8th and 'G' Streets and at Waterman Gardens, according to Alanis. The vigil held for spears, Alanis hopes, will mark the beginning of a unified effort between the Latino and African American communities to stop the violence.
"The people are ready to work together," said Alanis. "Both sides are tired of the violence and tired of the killings. Even though there has been some major tragedies, in that there has been an opportunity to bring forth unification."
For Terrance, the memory of his cousin further motivates him to succeed in school and inspires him to be of help to others. He said his cousin's spirit lives through him.
"We were like brothers," he said of Jason. "He would always motivate and push me to do better. He was there for me no matter what. And he'll remain with me no matter what."