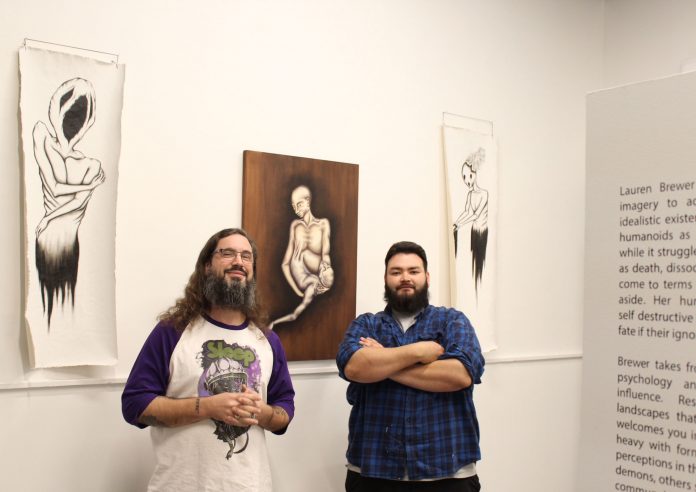 A hub where Inland Empire artists can showcase their unconventional, critical and logical pieces that provoke conversations on the social, political and identity issues of the day is a shared vision Andrew K. Thompson and Eric Servin are striving to achieve.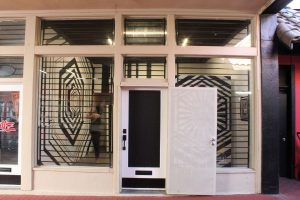 The Little Gallery of San Bernardino opened its doors in the downtown Breezeway on 4th St. in June and has already curated three exhibits featuring local artists. Andrew funds the endeavor entirely by teaching art and working as a photo lab technician at Cal State San Bernardino, and teaching photography at Chaffey College and the University of La Verne. Eric, a former student of Andrew's, invests countless passion hours of sweat equity into the gallery's operations.
Andrew, who describes himself as an artist working on the outer edge, completed his undergraduate studies in San Francisco before moving to New York in 2001 where he lived in the now gentrified region of Bushwick, Brooklyn for nearly a decade before returning to the Inland region. He holds a master's degree in Studio Art from Cal State San Bernardino.
Local artists are overlooked and under appreciated explained Andrew, who aims to shine a klieg light on Inland Empire talent. "There are tons of great art, but no place for it to happen, which is what I can provide with my space."
The types of work they want to showcase are specific.
"We want the work to be Velcro hooks that start a conversation," Thompson, a Colton resident, explained. "We're interested in provincial art that has a larger scope, not art that is flaccid and pointless. A local focus with global vision."
According to Eric the hope is for the Little Gallery to centralize art that inspires.
"I'd like for people to come and have dialogs, that the art sparks something, (provoking people) to do something different and new," Eric maintained. "We're giving artists a chance that (they may not have) to show their talent."
According to Andrew, the photographic exhibit In the Sunshine of Neglect: Defining Photographs and Radical Experiments in Inland Southern California featuring 54 Inland Empire artists, including him, held concurrently at the California Museum of Photography and Riverside Art Museum, is merely one example of Inland Empire artists producing critical and innovative works.
Andrew's other works of art will be featured at another upcoming exhibit Transition Zone at Chaffey Community Museum of Art on Sunday, Dec. 9 from 2 – 4 p.m.
"There are plenty of artists who live economically in the Inland Empire, but are often accredited to New York or Los Angeles," Andrew explained. "One is Jack Goldstein, whose retrospective was on exhibit at the Orange County Museum of Art." Goldstein spent his final years in San Bernardino.
Andrew and Eric are looking to feature local artists who may or may not have been conventionally trained, and are authentically unconventional. "Not so much street art, but (pieces that) actually say something, don't be unconventional for the sake of being unconventional. I'm vehemently against clichés," Andrew declared.
Currently the gallery is featuring oil paintings by Redlands resident Lauren Brewer in Haunted Humanity through Friday. There are curated shows scheduled through February.
"I want to keep investing in the Inland Empire, and I get to teach at multiple schools which helps fund the gallery," said Andrew. "Our continuous belief in our dream is what keeps us going."
Andrew and Eric welcome any support from the community in the form of donations, sponsorships and volunteerism. The Little Gallery of San Bernardino is located in downtown on 4th St. between E and D Streets, 459 W. 4th St. By appointment only. Follow them on Instagram and Facebook @the_little_gallery_sb.