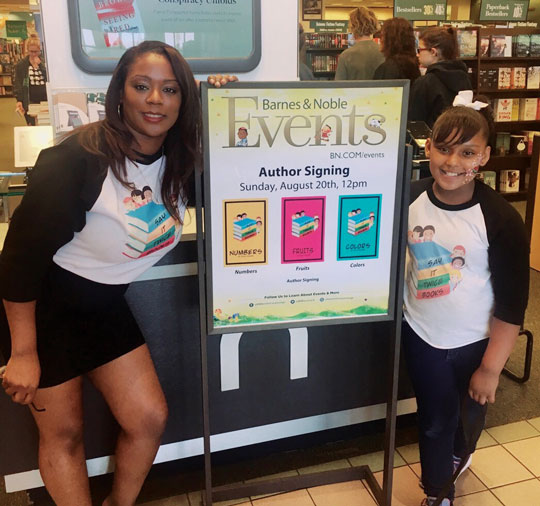 When Tracy Holmes' daughter Alyssa was about 3 years old, she designed a series of reading books for her, dubbing them "Spanish made easy" books.
Today the Rialto resident of 18 years has published that book series and is sharing it with the world to help children, their parents and everyone else who would like to learn a second language in an easy way.

Say It Twice Books has a set of five publications that feature Numbers, Colors, Bugs, Fruits and Vegetables.  Each colorful page has the corresponding Spanish word spelled out with what Holmes described as an "English pronunciation tool," very similar to phonetics.
Holmes has been amazed and is appreciative of the support she has received from the Rialto community at her book signings.  Along with invitations from local libraries to read her books to children's groups, she has also had Rialto police officers coming out to her book signings in a show of support.  Because of all of that encouragement, Holmes has decided to pay some of that kindness back by donating a portion of her proceeds to Hughbanks Elementary in Rialto.
"Dr. Monte Stewart, the Principal, and Mrs. Cristina Hernandez, the Vice Principal, at Hughbanks Elementary welcomed my daughter with open arms," said Holmes, "and they came to one of my book signings out of the blue.  It's important to me to remember those that have helped me and to support them as much as they've supported me."
Tracy Holmes will be signing her books at the Barnes and Noble Book Store at 11090 East Foothill Boulevard in Rancho Cucamonga on Sunday, March 18, 2018 from 12 p.m. to 4 p.m. pm.  She invites the Rialto community to come bring their children and join her in this celebration of her books, face painting and refreshments.  You can check out more about her Say It Twice books at www.sayittwicebooks.com.