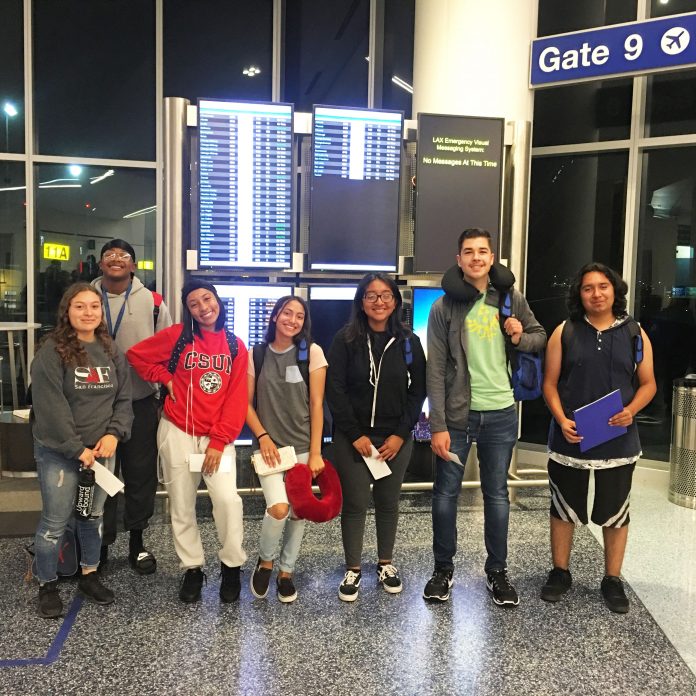 San Bernardino City Unified School District high school students went on a trip of a lifetime to Washington D.C with the help of Cal State San Bernardino's GEAR UP (Gaining Early Awareness and Readiness for Undergraduate Programs).  Seven high school students were selected from the program to attend the National Council for Community and Education Partnership Conference (NCCEP).
GEAR UP program coordinators at their school nominated students and were chosen based on attendance, GPA, personality and participation in the program. After being selected the seven students packed their bags for the three-day conference, which took place in July.

"It's a youth leadership program that teaches us how to stand up for ourselves, tell our stories, and be positive towards others," said Aria Honore, Middle College High School student.
On July 14th the students boarded an airplane to Washington D.C, three of the students had never flown before. Anthony Cipres-Torres, Indian Springs High School student, described being nervous and afraid at first, but found the experience of flying fun overall.
After landing the students settled in at their hotel and took to exploring the sites of Washington D.C.
"It was important to us that each kid was able to see or do something they always wanted to do in D.C and we made sure to accomplish that," said Summer Steele, Director of GEAR UP.
The students were able to take in the sights of Georgetown, the Lincoln Memorial, the Holocaust Museum, the Smithsonian National Museum of American History, and a private tour of California U.S Representative Pete Aguilar's office.
Students were also able to fit in some unusual and fun requests; Brianna Lopez, Pacific High School student, wanted to find the best ice cream in D.C and her coordinators did not disappoint her. All the students raved about their waffle-coned sweet treats along with many other interesting foods they were able to try.
Finally, at the conference students from all over the United States attended as representatives of their state GEAR UP programs. The first day was filled with icebreakers as students began to get to know one another. The students were put into groups where they were able to ask questions and play games to get to know each other.
"I really liked getting to meet students from all over and hearing them talk about their lives while sharing ours with them," said Brad Bolluyt, Cajon High School Student.
Evelyn Xolalpa, Arroyo High School student, describes seeing so many people as being overwhelming at first, but credits the trip to helping her come out of her shell and making new lifelong friends who she now keeps in constant contact with.
On the second day students experienced the "Integrity Walk" an exercise where students separate into groups and are asked questions that ranged from what type of food they liked to whether they ever experienced trauma in their lives, asking students to step forward according to their answers.
"Once we all saw what each other experienced and what we related on, it was easier to talk and get to know everyone," said Torres.
Jennifer Rubio, San Bernardino High School student, credits the experiences she shared with the students at the NCCEP Conference for her new confidence and giving her an opportunity to make new friends.
Such as Ronald Williams, San Gorgonio High School student, admitted he is normally a shy and reserved person. But the experience he had with other students taught him the value of putting himself out there and speaking up.
After that, the students had a presentation on "Fear of Image" and how they shouldn't let it control their lives. There were many speakers at the conference with a wide variety of positive messages directed at the students. They later broke into groups to discuss what they had learned and build upon the lessons.
On the final day, students organized in groups to perform for their peers. Such as presentations on their experiences, an evolution of music, short skits and much more.
"We already felt like a family here at the local GEAR UP program but going to the conference made us see how really big this family is and it's a great feeling," said Torres.
GEAR UP is proud to assist students all year around with tutoring, field trips and other resources that assist students in achieving their college dreams. For more information call (909) 537-5206.