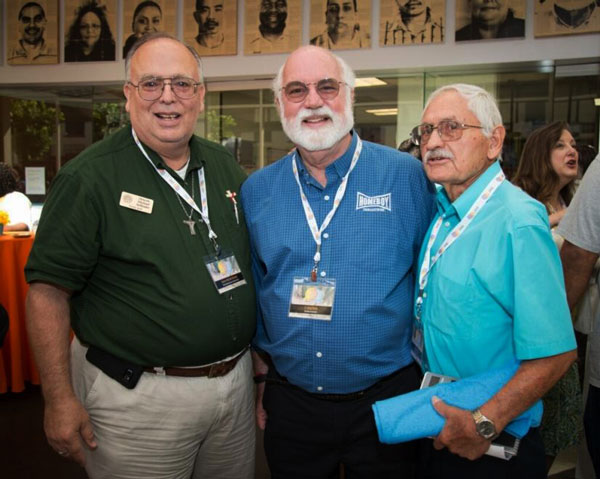 Deacon Mike Bellinder of Holy Name of Jesus Parish in Redlands and parishioner Tony Bocanegra recently attended the 3rd annual "Homeboy Network Gathering" in Los Angeles. The event is sponsored by Homeboy Industries whose founder is Fr. Gregory Boyle, who is also the writer of best seller "Tattoos on the Heart", which was named as the 2010 SCIBA Book Award Winner for Non-Fiction.
Fr. Boyle is a Jesuit Priest, who in 1986 served as pastor of Mission Dolores Church, at that time, the poorest parish in the Los Angeles Archdiocese.

The Pico-Aliso area where the church stood was known to have the highest concentration of gang activity in the entire city. In 1988 Fr. Boyle buried his first young person killed because of gang violence and since then he has been called for this sad task an additional 210 times.
Homeboy industries is a gang rehabilitation organization and had its start in 1992 with the financial help of Ray Stark, a hugely successful Hollywood Agent, and a megahit producer. The plan was to bring rival gang members together by offering them jobs. The first project was opening what was called the Homeboy Bakery. Since then Homeboy Silkscreen, Tattoo Removal, and the Homegirl Cafe, near Chinatown are very successful ventures that train and employ former gang members, some recently out of prison.
In Fr. Boyles book "Tattoo on the Heart" he distills his experience working in the ghetto (barrios) into a breathtaking series of parables inspired by Faith. He also makes approximately 200 speaking appearances per year and has received numerous humanitarian awards, among them the California Peace Prize.
The Los Angeles event and workshops were attended by 121 organizations from 5 countries (Canada, New Zealand, Australia, Mexico and 27 cities from the US).
Workshops available were:
1. Planting the heartbeat of Hope and Kinship.
2. Homeboy, substance abuse services and program.
3. Moving kids from risk to resiliency.
4. Recovery, relapse and relationship.
Fr. Boyle was the Keynote speaker and the highlights were former Homeboys & Homegirls (homies) giving testimonies of their past lives as gang members, prisoners, drug addicts and their experiences as members of the Homeboy Industries, as trainees, workers, instructors and as mothers and fathers, and their desire and commitment to help others drawn to gangs. Their sharing was very inspirational and brought tears to many in the audience.