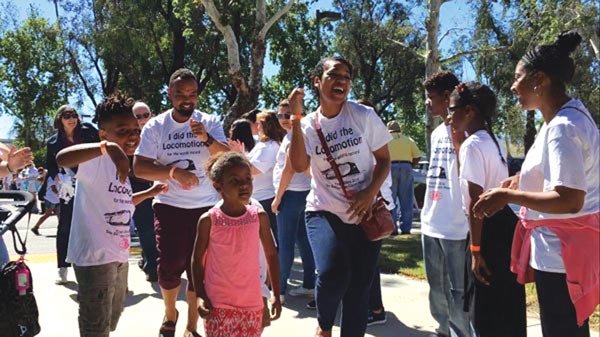 Move your caboose!
The San Bernardino County Museum will once again attempt to break the Guinness World Record for the longest Soul Train dance line Saturday, and organizers are looking for passengers to make it happen. Dancers of all ages are encouraged to jump on the train to surpass last year's attempt, which missed the record by just 27 dancers, said Museum Director Melissa Russo.
"(This year) it's going to happen."
"Even though we didn't break the Soul Train dance record last year, we had great time," she said in a news release.
Last year's event brought out more than 300 dancers, many dressed in 70's-style garb, complete with afros and platforms.
"Just imagine hundreds of people, some in costume, dancing through the Museum courtyard. It was fantastic! We are confident we will break the record this year," she said.
The first 500 dancers to register for the event will receive a free T-shirt commemorating the world record attempt. To sign up, visit the museum's website, www.sbcounty.gov/museum, and click on the Soul Train dance icon. Line up for the dance party begins at 1 p.m.
The Redlands Noon Kiwanis will be sponsoring a barbeque luncheon for members beginning at 11 a.m. before the challenge. A dance challenge with DJ Eturnal will follow the record attempt.
After all the shimmying and the shaking, attendees are encouraged to stay for the museum's kick off to Train Days April 22-30.
The annual event brings dozens of model train clubs from throughout Southern California to set up scaled tracks, cities and model train layouts filling the museum's galleries, Learning Depot, and courtyard. Family programming and exhibits will also be scheduled throughout the day.
"Train Days at the county museum is great fun for all ages," said Supervisor Curt Hagman, a sponsor for this year's event. "It also recalls the vitally important role that the railroad industry has played in the history of San Bernardino County and, indeed, in the economic development of the West. First came trails, and wagon roads, and then railroads that turned San Bernardino County into the link that joined the Pacific Coast with the eastern United States."
Train Days runs daily from 9 a.m. to 5 p.m. except Monday when the museum is closed. Both weekends will feature family activities, a train talk, and food trucks.
General admission is $10, $8 for military personnel or seniors, $7 for students and $5 for children ages 5 to 12. Children under 5 and museum members are admitted free.
To learn more visit www.sbcounty.gov/museum.