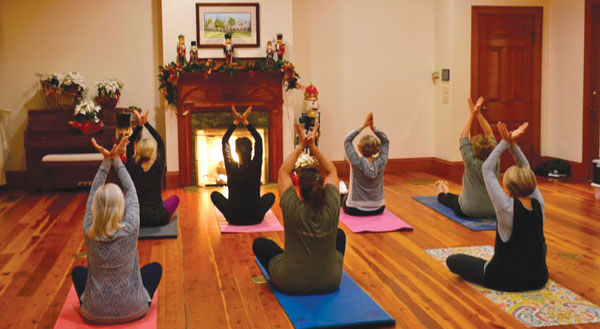 Mansion Memories is making it easy to get started on that goal by offering yoga classes at the historic Burrage Mansion in Redlands.
Mansion Yoga is the nonprofit's newest fundraiser open to the community as a way to support its Magical Day events for children in the area.

Heidi Pasley, a registered Holy Yoga instructor, will lead the spiritual and relaxation-based group class Mondays at 6:16 p.m. in the mansion's Ballroom.
Classes are one-hour long and include 30 minutes of Vinyasa yoga, which is movement between poses in yoga, accompanied by regulated breathing, and 30 minutes of Yin yoga, a slow-paced style of yoga with postures that are held for longer periods of time. The sessions will be held in candlelight by the fireplace and will include faith-based music.
Guests can attend their first yoga class for free, according to Magical Memories. Additional sessions are $15 each; $50 for a five-session pass; $90 for a 10-session pass. Participants are asked to bring a yoga mat and water bottle.
Proceeds will benefit sponsorship for children to attend upcoming Magical Day events, which are intended to give guests a day of love, laughter and magic.
Mansion Memories is a nonprofit organization that works with the Rochford Foundation to host events for children and families who are facing crises such as death, disease and injury.
Class registration is available at www.mansionmemories.org.
To learn more, visit the nonprofit on Facebook at www.facebook.com/mansionmemories.org.