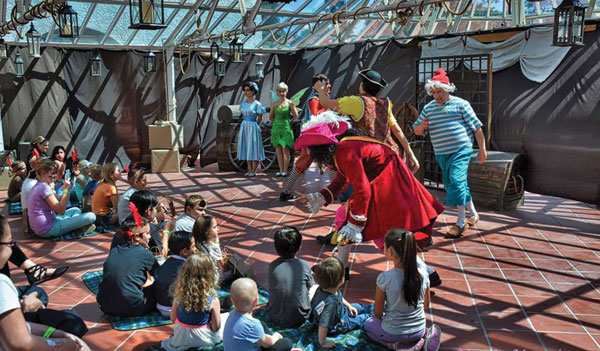 Dozens of youngsters were "Off to Neverland" as Mansion Memories hosted a Magical Day at the Burrage Mansion in Redlands recently.
Children and their families invited from the Ronald McDonald House, Totally Kids Outreach, Paulson's Orthodontics, American Red Cross, Common Vision Coalition, Kiwanis Club of Redlands, Think Together, Childhood Cancer Foundation of Southern California, The Blessing Center, Redlands Unified School District, were taken on a journey to Neverland, to meet Wendy, Peter Pan, Tink, Hook and Mr. Smee.

As part of the event, guests flew to Neverland to enjoy a meal in the Lost boy's borough, then were captured by Hook and Mr. Smee and taken to the Jolly Roger, where they battled Team Pirate and Team Lost boy as they played a series of Pirate themed games. Pan saved the guests and battled Captain Hook one final time.
Mansion Memories is a non-profit organization that hosts events for children and families experiencing hardships. The group works closely with the Rochford Foundation to provide one-of-kind events for families at the Burrage Mansion. Fundraisers are held throughout the year to make Magical Days possible.
Upcoming fundraising events include The Mansion Munchkins, Halloween Hoot, October 27, and a Historical Mansion tour November 5.
For more information or to register, visit www.mansionmemories.org or visit their Facebook page at https://facebook.com/mansionmemories.org