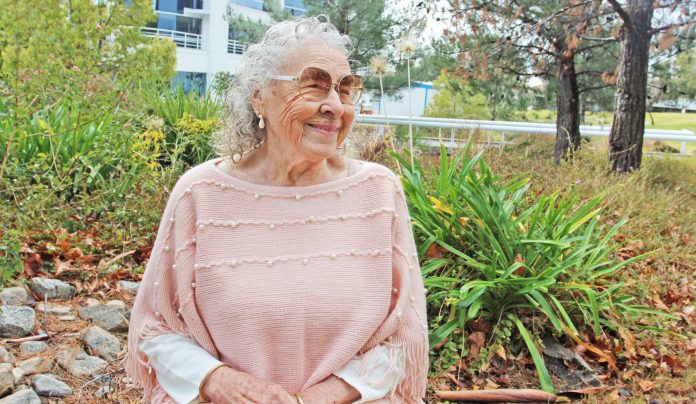 San Bernardino County native Margaret Beatrice Cisneros celebrated her 90th birthday on May 15th.
This past Saturday she celebrated her birthday with her closest family and friends, which included her daughter Kathy Olguin and granddaughter Stacia Olguin, at Mitla Café in San Bernardino.

"Nana, as we call her, grew up in a time where women were not treated as equals to men, but as a minority woman she faced harder challenges. We were always reminded that education was so important to have because she grew up in a time where gaining an education wasn't common," said Stacia.
Cisneros, who married Lupe Cisneros in 1949, gave birth to four children between 1950 and 1956 – Bernadette, Ronald, Dennis, and Kathy.
Once Cisneros' children grew closer to their teenage years, she attended San Bernardino Valley College and graduated with an Associate of Arts degree in Sociology, in 1968.
"Returning to college after 19 years was an adjustment, but I never avoided a challenge or denied my deeply rooted sense of social justice for all people who struggled for a better life for themselves and their families," Cisneros said.
During the 1960s, the Chicano movement was well under way, and Cisneros was inspired by advocacy and positive change for those in and around the Inland Empire community.
One of those advocacy groups she was a part of was the Casa Ramona Drop In Center, where she served as one of the original board members for many years.
"At Casa Ramona I was collaborating with other community leaders on issues that are still pertinent today. The goals of the center grew to serve west-side residents with legal services, education, senior assistance, dance, theater and the arts. During this time voter registration and participation in our local San Bernardino City elections steadily increased," Cisneros said.
For over 13 years, Cisneros served on the City of San Bernardino's Parks and Recreation Commission.
"When I served on the Parks and Recreation commission I felt that my leadership role could provide positive changes benefiting all families who enjoyed the San Bernardino parks and activities provided at the community centers and ball fields," continued Cisneros.
"I was proud when our recommendations on the Parks and Recreation Commission led to improvements and better policies through the San Bernardino City Council voting process," Cisneros said.
Cisneros decided to continue her education, and in 1974 she earned a Bachelor of Arts degree through the College of Social and Behavioral Sciences at California State University, San Bernardino; and she earned three lifetime teaching credentials.
After completing her studies, in 1975 Cisneros began teaching at Bonnie Oehl Elementary School, a San Bernardino City Unified School District campus; she retired in 1995, after 20 years of teaching.
"After learning what our Nana went through to ensure she received her degree, it always reminded my sister and I how fortunate and blessed we are to come from a family that supported us and the access we had to gain that education," Stacia said. "I'm honored to know that our Nana was taking a stand all those years ago for women and people of color to be admitted into higher education institutions…that will always bring pride to us."
In 2010, after 63 years of marriage, Cisneros' husband Lupe passed away; they have six grandchildren together – Lisa, Gabriel, Julian, Stacia, Yasmin, and Mireya.
"My Nana is such an inspiration, she was born in a time where having a voice was not always accepted or celebrated, but she still made sure progress was always on the agenda for her community. Her involvement has directly influenced our family to continue fighting the injustices still witnessed in our communities today," concluded Stacia.