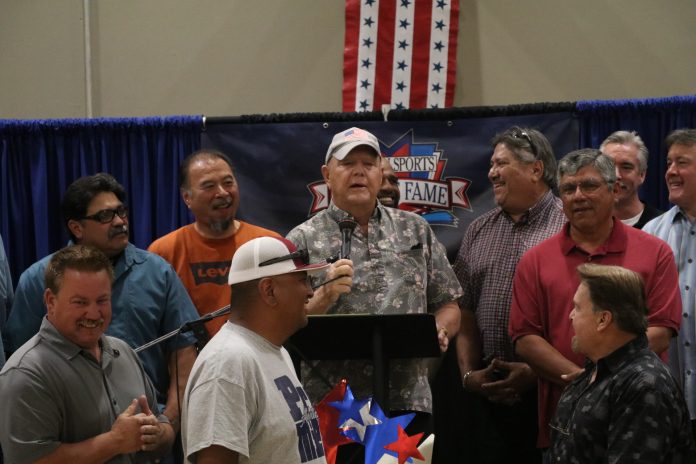 Former Colton High School football coach Don Markham and the late Juan Caldera were inducted into Colton Sports Hall of Fame during a ceremony at the Gonzales Center on April 21.
Markham, who was coach at Colton High School from 1973 to 1983, had dozens of his former players join him on stage as he gave his acceptance speech.

"It was something special," Markham said about his time in Colton. "These guys were unbelievable."
The 76-year-old helped build Colton into a perennial power. Under Markham the Yellowjackets appeared in three CIF Championship Games, winning the Division 3A title in 1978. It was under Markham's tutelage that Colton entered the Citrus Belt League in 1980.
Throughout his 50-plus year career, Markham won 312 high school football games and five CIF Southern Section championships. He was also responsible for creating the 'Double Wing' offense plan.
Former USC standout and Colton High School football star Marvin Williams described Markham as a winner and a person, "who cared about the community and the youth."
"There were times when coach lost, but it wasn't many times really," Williams said. "Schools won a lot of games because of this man. He expected a lot from all of us players. He treated us all the same."
Caldera, born in 1892 in Zacatecas, Mexico, was instrumental in establishing businesses, public facilities, and baseball teams in South Colton during the early twentieth century.
In his younger years Caldera worked at the Portland Cement Plant, before buying land in South Colton to build the region's first sports complex that included a baseball diamond, a non-segregated swimming pool, and a bullring on the corner of Rancho Avenue and Congress Street.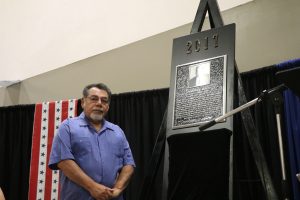 Historian Mel Salazar worked alongside Caldera's grandson, Augie, to recollect photographs, news articles, and other primary sources that trace the entrepreneur's life accomplishments.
"Even though I didn't know him, I met a lot of his family, and that means a lot to me," Salazar said.
Caldera's son, Frank, said his father's impact on Colton was great for all people in the city, just not Mexicans and Mexican Americans.
"He was ahead of his time," said Frank. "My father was a selfless man that always thought about the people of the city."