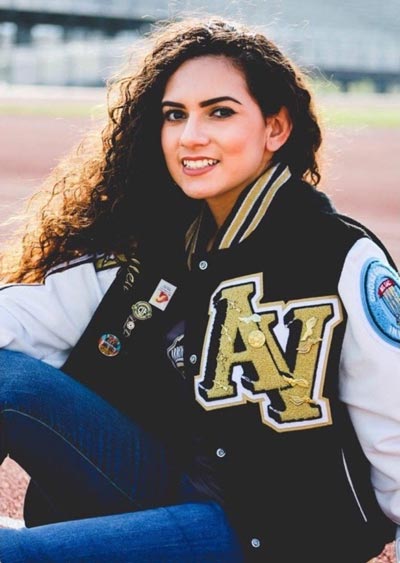 Marlene Limon is 17 but has the wisdom of someone four times her age. The 2017 Arroyo Valley High School alum will attend UC Riverside on academic scholarship next month. Her long list of accomplishments include being nominated as one of 25 female candidates in San Bernardino County for the 53rd Ken Hubbs Award.
She was also selected as her school's representative for the 2015 American Legion Auxiliary-500, a statewide event where girls create mock governments as they live in their "city" for a week.

Her Hubbs' selection was actually a rarity since the award is usually based more on athletic accomplishments. Limon was never all-league nor on a championship team. Her immense contributions outside of sports were the deciding factor. She graduated with a cumulative 4.04 GPA to rank her No. 21 among 522 in her senior class.
"I was always a team player who cared more about the team than myself," said Limon, who once slowed down in a race to let a younger teammate qualify in front of her. As a junior, Limon actually demoted herself from the Hawks varsity volleyball team back to JV so that a freshman could have her position. "I was called 'mom' by my teammates. I took pride in that."
Limon was captain of the AVHS volleyball and track team, along with lettering in cross country and soccer. Her sister, Stephanie was her coach or her assistant coach for three years at AVHS. Stephanie Limon was a decorated student at AVHS as well.
Limon was also elected president to a number of campus clubs. She was the "go to" person for administrators when they needed a student to speak before the student body. In addition, she was considered a goodwill ambassador. On campus, she was a mentor to incoming freshmen for two years. Off campus, she's been known to introduce herself and welcome those speaking other languages. "I approach them and compliment them about how beautiful their language sounds and could they teach me a word," said Limon, who recalls going up to people speaking Romanian, Portuguese, and Chinese. "It's good to open your mind."
Limon's bio includes being the only girl on an AVHS academic team that advanced to the championship match of the California Personal Finance Challenge Competition. Students were made to prove their financial literacy on topics like making budget reports, filing taxes, and other "real-life experiences." She was selected as a 2015 Rotary Youth Leader and was a two-time first place winner in the San Bernardino City Unified School District annual art competition for her clay realism sculptures.
Limon said she did not want to sound bitter by saying that Hispanic people are often made to "automatically feel inferior" by many uninformed people."Some people have developed a bad habit. I feel sorry for them," said Limon.
"My father was born in Mexico but I was born here, so I am able to see both sides of the cultural issue," said Limon. "It's hard to understand why people spread hatred. If they could open up and dig a little bit deeper, they would understand a lot more."
Limon explained that her grandfather came to America on a temporary work visa in the 1950's from Oclotan, Jalisco, Mexico. But her grandmother became extremely angry when her father wanted to leave the family farm at age 15 to go to the U.S.
"My father wanted more in life. In our little village in Mexico people work to raise their food and have clothes. The Mexican culture is very humble. All the small homes in Oclotan (population 2,000) are made of adobe."
She says she will always carry her Mexican roots even though she was born in Pomona. Limon appreciates that her father gave up his childhood to make a better life for her and her brother and two sisters. She told how her father worked his way up from a non-English speaking laborer to become a supervisor of a large home improvement company. "He now talks to his customers in fluent English."
Despite her father's success, Limon described nights when her father would come home from work not feeling well. "There are many people who don't want to deal with my father because of his accent or his use of English. They ask to speak to a supervisor. He tells them he is the supervisor. My father tries to hide it, but he gets very hurt. I tell him it's not their fault. They are just closed-minded."
Contrary to her father, Limon's mother was born in El Paso, Texas but worked in neighboring Ciudad Juarez, Mexico as a nurse intern while still a teen. "After she raised her children my mother went back to college and earned her teaching certificate and now works at a preschool in Rialto.
Unlike their predecessors, Limon thinks the new generation of youth immigrating to America is different. "They are not satisfied with just food and housing. They want TV, the latest phones, and styles," noted Limon. "They feel embarrassed to speak Spanish. I tell them to take pride in knowing Spanish."
Limon will be a dual Spanish/Political Science major at UCR and after graduation will apply to be a teacher in the San Bernardino City Unified School District. "I can handle the challenge of teaching in San Bernardino and I understand the demographics. I want to teach 16- and 17-year-olds. I'd like to be that teacher who you always remember. Kenneth Soto was a special teacher at Arroyo Valley. I want to be that special teacher, too."