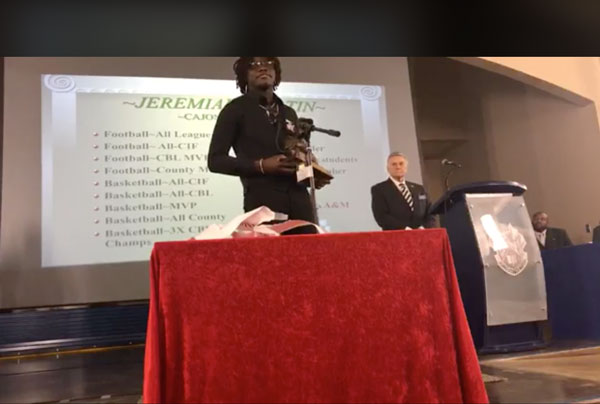 Jeremiah Martin of Cajon and Autumn D'Arcy of Redlands East Valley were the overall winners of the 54th annual Ken Hubbs Awards that took place at Bloomington High School on Monday evening.
The program opened with the annual viewing of the 25-minute film about Hubbs, A Glimpse of Greatness. Hubbs, a 1959 Colton High School graduate, was a National League baseball all-star who perished in a plane crash on Feb. 13, 1964.

Ken's brother, Keith, presented the award to Jeremiah, noting his accomplishments in football and basketball that include All League, All-CIF, County MVP, and All-CBL.
Jeremiah has committed to attend Texas A&M on a football scholarship.
An exceptional swimmer, D'Arcy's long list of accomplishments include being a 16-time CBL champion, 12-time CIF finalist, 3-time CIF champion, ranked in the top 100 of the nation and REV's Athlete of the Year. D'Arcy also volunteers regularly at a local homeless shelter serving meals and making blankets.
50 student athletes from 25 county schools were recognized for their athletic accomplishments on Monday. Colton High School winners were Anthony Miranda and Loreal Fuerte; from Grand Terrace Jacob Torres and Alyssa Graham.