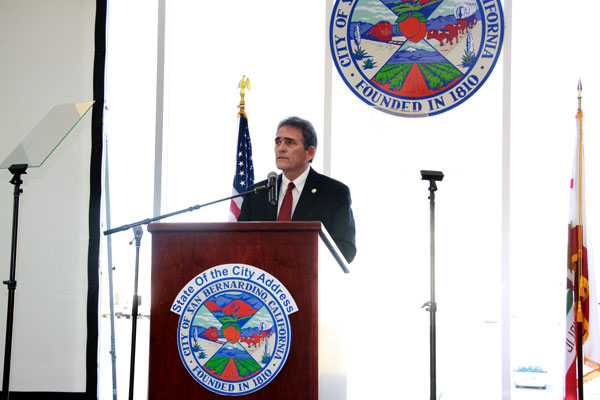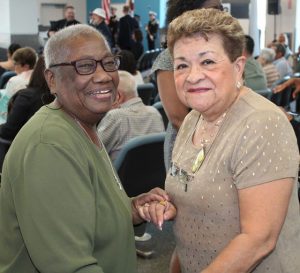 San Bernardino City Mayor Carey R. Davis credits the adoption of the new charter in 2016 as the fundamental achievement that altered the course of the city's future during his 2018 State of the City Address on Friday, Apr. 27 at the San Bernardino International Airport.
"(The charter) has helped the mayor and city council to refocus as a policy-making body to refine the city's, and our community's, goals," Davis declared to the audience of over 100, and applauded the hard work, dedication and commitment demonstrated by the Citizens Advisory Committee and volunteers who helped rewrite the city's constitution.

During the most recent Strategic Planning Workshop comprised of the community, City Manager, department heads and the mayor, new goals were identified that include improving public safety, growing the economic value of the city, improving government opportunities and perception, and increasing housing options.
Davis reported that public safety is the city's top priority, citing the San Bernardino Police Department's faster response times, enhanced community engagement and outreach, and the hiring of 35 new officers by the end of 2018.
Infrastructure was another priority Davis mentioned, one that he maintains creates a clean and attractive community. The city's receivership program has rehabilitated 33 homes with 28 more that are in the process. Davis commended the Public Works Department for fulfilling projects at a faster rate than the city has witnessed in recent years.
Davis outlined some of the infrastructure improvements that occurred between July 2017 and February 2018 – 1,600 potholes filled, 500 streetlights repaired and over 2,400 trees were trimmed.
Additionally, the city's unemployment rate dipped from 12.3% in 2013 to 5.1% as of March 2018. The employment base increased 9,500, bringing the total number of jobs in the city to 81,000.
Other highlights Davis outlined include the extended UPS contract with San Bernardino International Airport that will serve two UPS freight cargo flights daily which has piqued the interest of other carriers; city libraries served over 226,000 patrons over the past year; Trader Joe's announcement of the opening of a distribution center; a new mixed-use development in the Verdemont area that will consist of 120 family homes; and nine new tenants downtown.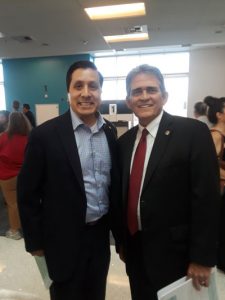 "The city is setting the stage for the transformation from hopelessness to opportunity, where we are fostering hope and investing in the future," Davis asserted.
In conclusion Davis asked the audience to envision the future of the city, a model and thriving city, that capitalizes on its location, diversity of residents and economy that offers a broad range of choices for how residents live, work and play, characterized by high quality education, community health, arts and culture.
"We are poised to launch a safer, more prosperous community," Davis concluded.