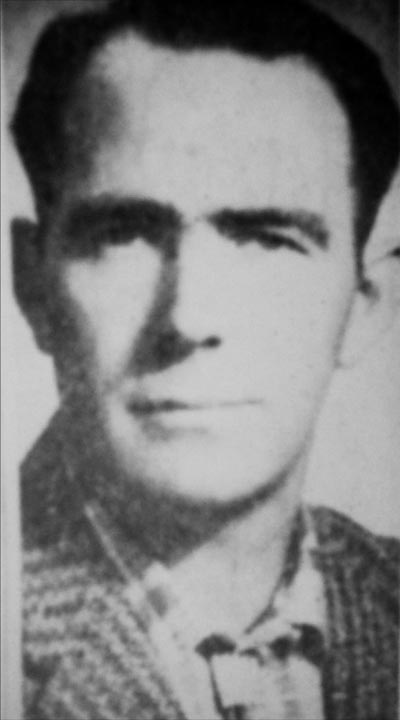 Les Antinucci recalls his former vocational shop teacher at Pacific High School being a major influence in his life. Al Jury remembers his former Pacific High cross country coach as a good role model. Antinucci and Jury are just a few left who knew the late coach, who because of his untimely accident became the most famous coach in the history of San Bernardino County sports. Unfortunately for Louie Finn, he became famous due to the cause of his death.
According to March 14, 1959 reports from the Associated Press national news wire service, Finn, 40, was hit in the head by a 12-pound shot put on the Pacific HS grounds and died from massive skull damage a day later. The PHS athlete who threw the put tried to yell a warning when he saw Finn but it was too late. A followup inquiry by the San Bernardino County Coroner's office ruled the incident a tragic accident. The traumatized student was summoned by the Coroner to testify.

Like most shot put accidents it happened during pre-competition warmups. Jury was preparing for his running event on a adjacent track. He heard commotion and saw students running toward the stricken coach. The year prior, Jury was a member of the 1958 Citrus Belt League champion cross country team coached by Finn.
Jury later became a National Football League referee and official. In a January 2014 interview with the Inland Empire Community Newspapers, Jury said he was at location during two of the most horrific incidents in American sports. "I was at Pacific High School and saw my cross country track coach Louie Finn laying there dying. I was an NFL official working the game when Darryl Stingley was tackled and laid paralyzed for life after a tackle by Oakland Raiders' safety Jack Tatum.
Antinucci recalled that he enrolled as a student at Pacific the year it opened in 1953. Antinucci said Finn also transferred that year from San Bernardino High School. "Louie Finn was the first of Pacific's shop teachers. I was a shop major and had him for machine shop teacher. That's where I learned to weld," recounted Antinucci. "I already graduated when the freak accident happened, but it was quite an affair. It upset the whole city and was a national news story."
Reporter Claude Anderson wrote that San Bernardino residents rallied behind Finn's wife, Janet and his four children. A number of benefits were held to supply funds for the family. The inaugural Louis Finn Pacific High Invitational Memorial cross country meet was held in 1960. The cross country track that transgressed Perris Hill was proclaimed The Louie Finn Memorial Course. The late PHS Principal Dr. Kenneth P. Bailey then announced the establishment of a perpetual Louis C. Finn Memorial Sportsmanship Award "to further the intent of cross country track members through attitude, sportsmanship and desire."
Anderson reported the Louis Finn Memorial Invitational was conducted every year through 1981. It was canceled in 1982 when its then cross country coach Tommy Farr and his wife were killed in an auto accident. The Finn Invitational was never held again. Current Pacific Athletic Director Carmel Brand explained that Pacific was closed in the late 1980's, when it was the temporary site for Arrowhead Christian Academy.
When asked about the bronze memorial plaque that was placed on campus to honor Finn, Brand said that she knew about Finn but did not know about his memorials. "When Pacific re-opened everything was gone," said Brand. "We once had thousands of bronze plaques. The campus was empty for a short time and things were missing. I'd like to know where all of our banners and trophies are. I heard the school district picked up some and stored it somewhere."
Brand said she was briefed about Finn but never knew the track was named in his honor. She did not know about the Louis Finn Invitational Meet or the Finn Sportsmanship Award. Brand indicated that Pacific basically started as a new school in 1991, however she was interested in re-assembling her school's decorated past.
When reached later, Pacific's new Principal Dr. Natalie Raymundo said also that school staff is collecting and verifying information about its past. "We are building a new culture here at Pacific and are looking into our past. One where the students have a ownership of their school," said Raymundo. "There's been many important people at Pacific and its good for the community to have them recognized."
Raymundo said Pacific's athletic facility will be soon undergoing major upgrades. She could not confirm whether the track or cross country course would again be named after Louie Finn "but it might." She explained a school district process must be followed before any of its property can be named.
Finn was hired by the SBUSD in 1948 after graduating cum laude from UC Santa Barbara. He served in the Navy during WW II. Along with wife Janet, he left children who were teenagers at the time, John, Jan T., Debra, and Patricia.
Meanwhile, Antinucci said he understands why not as many people currently think much about the past, especially an event like the one that killed his former teacher. Antinucci married his Pacific High School sweetheart, Merle and they remain married to date. "Times have changed. There was once a time when people respected one another," said Antinucci. "These are different days."