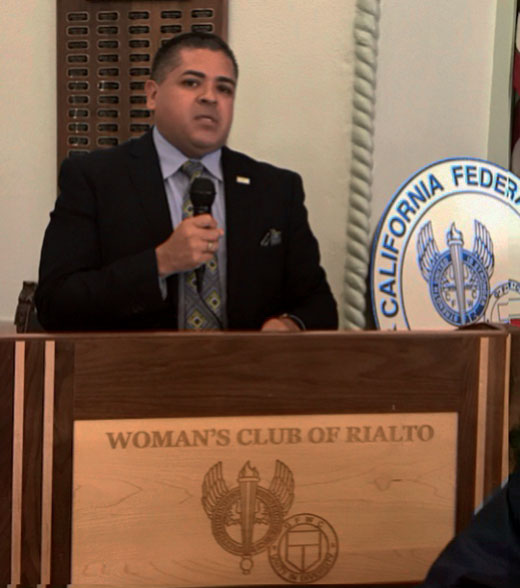 Local businessman Albert Calderon of H&R Realty and the Woman's Club of Rialto will be co-hosting a business mixer on Tuesday, March 20 from 5 – 7 p.m. on the grounds of the Woman's Club at 219 Riverside Avenue.
Calderon is working in conjunction with the senior advocacy group iHelpIE to give local businesses an opportunity to network and fundraise for expenses to help Rialto seniors attend the annual Senior Rally Day at the State Capitol in Sacramento on Tuesday, May 8, 2018.

Calderon, together with the Woman's Club of Rialto President Kathy Holm and iHelpIE representatives Marisela Ferguson, Sara Garcia and Brenda Bristow are working hard to bring together Rialto businesses and the local community to network and gain strength together in pushing this senior effort forward.
"We will be taking 45 to 50 seniors to the state capitol for Senior Rally Day," said Marisela Ferguson of iHelpIE, "We want to speak directly to the policymakers, to those who make the decisions over senior issues like medical care, affordable housing and we want them to see the faces of Rialto seniors, so they can hear that seniors need help"
Ferguson is encouraging the local community to come to this free event to take advantage of samples and resource materials that will be offered by the various businesses, including Cuca's Mexican Food and Coffee Nutzz. Finger foods, coffee and water will be available.
Mayor Deborah Robertson will open the event with a welcoming statement.  Also present will be Rialto Police and Rialto Fire Departments, alongside informational booths from the offices of elected officials Senator Connie Leyva, Assemblymember Eloise Reyes, Congressman Pete Aguilar and Congresswoman Norma Torres.  Music will be provided by the DJ Get Down Music Entertainment of Rialto.
Each individual and business will have an opportunity to donate towards this effort to get the seniors on the bus for the nine-hour trip to Sacramento.
"It's important for us to have the voice of our local seniors heard," said Ferguson, "We organized this effort because one voice is good, but 50 voices are huge!"  Ferguson reported that last year's Senior Rally Day saw between 500 and 600 California seniors make the trek to the capitol.
For anyone interested in hosting a booth at this event or further information, please contact Albert Calderon at 626-373-4962.