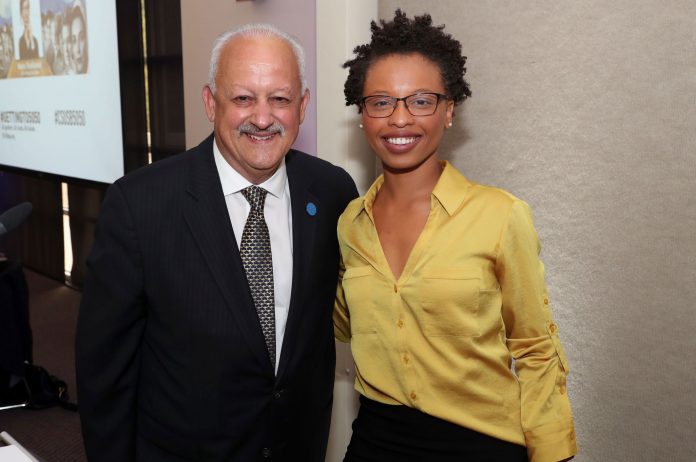 In celebration of 50/50 Day, the 50/50 Movement event at Cal State San Bernardino on May 9 focused on creating a more gender-balanced world and highlighted the roles that everyone plays in developing an equal society, particularly in the local community.
"Women make up 50.6 percent of the U.S. population. Yet that majority is still not reflected in the boardroom, the courtroom or government," said CSUSB President Tomás D. Morales in his opening remarks. "Women are worthy of equal standing in business, in politics, in the community and especially in education … To reach equality in leadership requires moving beyond the philosophical to the practical."

Monica Stockhausen, CEO of NerdyGirlsRock LLC, professor of business at Chaffey College in Rancho Cucamonga and CSUSB alumna, served as the guest speaker, focusing on localizing the 50/50 movement.
"It's important to realize that there is no global reparation unless there's local involvement. Localism is always the current revolution," she said. "Local people continue to move the needle forward and fight and do the dirty work without the applause.
"I'm here to remind you of what you probably already know," she continued. "That the journey to equity and economic access for everyone is literally in our hands with every decision that we make."
Stockhausen, who was raised in nearby Rialto, expressed her longing for change in the local community.
"I am burdened by these issues. This is not just a passion for me; I am burdened by these 50/50 issues. I cannot shake them," she said. "I'm doing my absolute best to localize it in a way that it can change the outcomes for the Inland Empire. That is what's important to me."
Stockhausen emphasized the fact that everyone's voice, no matter their background, matters in this movement.
"Everyone should be allowed to participate in these types of conversations. It is indeed a global side effect to think that you have to be an expert or a keynote to take action and to be a part of this big conversation. Or it feels like you have to have the correct jargon to even be taken seriously in these types of conversations. I hope to free you of that today," she said.
She expressed she is tired of "preaching to the choir" and encouraged the audience to bring others into the movement.
"Any other equity event that you go to, I challenge you to bring someone that does not think like you, doesn't act like you, doesn't look like you and has more money than you.
"We cannot get to 50/50 by 2020 and not expect to lift a finger in our own city," she said. "And so I leave you with this question to ask yourself: What do you stand to lose if you do not engage civically? And who stands to lose if you don't?"
The event also featured a women's leadership panel, which included Rachel Beech, assistant vice president of Admissions & Student Recruitment; Rowena Casis Wiodyla, director of the Staff Development Center; Donna Garcia, associate professor of psychology; Angela Louque, department chair of Education Leadership & Technology; Lenora Rodgers, director of Administrative Computing & Business Intelligence; and Olivia Rosas, associate vice president of Student Success and Educational Equity.
The Coyote Bookstore, Human Resources Department, Osher Adult Re-Entry Center, Student Success & Educational Equity, and the Women's Resource Center were supporters of the event.