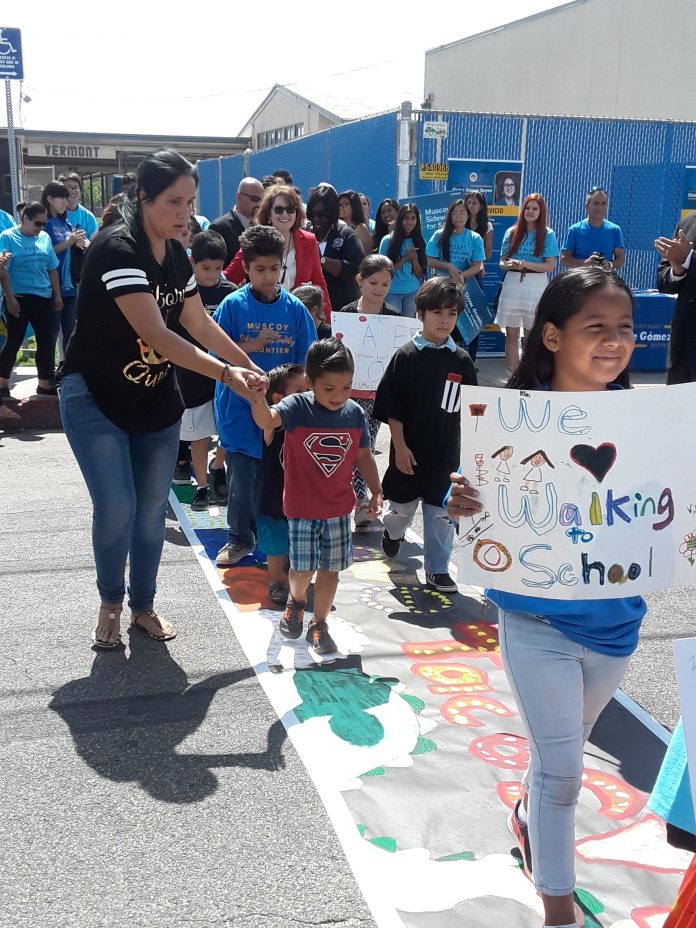 Syringes, beer bottles, cigarette butts, speeding cars and stray dogs are just a few of the hazards elementary students who live in Muscoy encounter on their walk to and from Vermont and Muscoy Elementary Schools. SOAR IE is a group led by concerned high school and former Muscoy students who walked those paths everyday and know first-hand the perils entailed.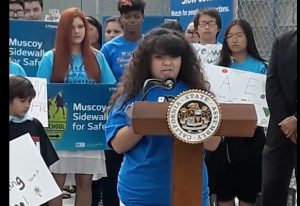 The group conducted a walk audit in March and documented traffic hazards and identified traffic safety priorities such as the need for infrastructure like sidewalks, crosswalks and bus shelters. This led to a partnership with Assemblymember Eloise Reyes' Office, Safe Routes to School National Partnership and the County of San Bernardino.

"I honor (the students') work and I am so proud that they have worked with us to make it a reality," said Assemblymember Reyes. "Our students deserve safe routes to school, no matter what their zip code."
"When walking the streets of my community I'm afraid of what can happen, I've seen how kids struggle to walk on our streets risking getting hurt because of a lack of sidewalks," said former Vermont student Angela Loera. "I understand people don't want sidewalks because of horses, but the life of a child is more important."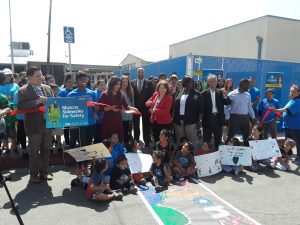 On Thursday, June 14, 50 volunteers collaborated to paint crosswalks, create bus shelters and placed curb extensions, with funding from SCAG's Go Human Campaign. A ribbon cutting ceremony celebrated the completion of the Muscoy Sidewalks for Safety project on Saturday, June 16 in front of Vermont Elementary.
"I'm happy to see this project roll out because it can be scary sometimes and I worry whether my son is going to come home or get to school safe," said Muscoy parent Chris Alonso, whose 8-year-old son Joaquin rides his bike to and from school. "It's dangerous, there are no sidewalks, and it's frightening to see cars zoom by and ignore stop signs."
In addition to traffic concerns, there is the risk of substance abuse. According to Mirza Martinez, Mental Health Systems (MHS) prevention specialist, when children are pre-exposed early on to drug and alcohol paraphernalia on a regular basis they can become conditioned to it and likely to experiment.
"In every child there is a future – a future teacher, doctor, electrician and even a NASCAR racer and many more. It's sad that all of this can change because of an exposure to drugs and alcohol," remarked Loera.
Assemblymember Reyes' Office and The County of San Bernardino are collaborating to apply for grants that will fund permanent sidewalks in Muscoy.