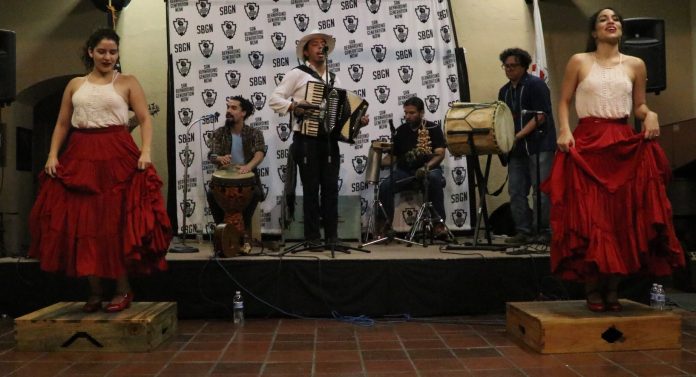 The public was treated to a display of cumbia music and poetry at the Garcia Center for the Arts in San Bernardino on August 19.
"Pa' delante", which translates into move forward in English, was the name organizers chose for the fundraising event that promoted cultural awareness and creativity. Community advocates and musicians held the Pa' delante event to raise money to help financially support the community center.

"We're healing and defending San Bernardino through the cultural arts," said musician Jose "Aguatl" Ledezma.
The Garcia Center for the Arts was opened in November 2015 through the leadership of Drs. Ernie and Dorothy Garcia. The community center houses nonprofits Inlandia Institute, the San Bernardino County Arts Connection, the San Bernardino Art Association, and San Bernardino Generation Now to name a few.
The center, located on the corner of 11th and 'E' Streets, was purchased from the San Bernardino Valley Municipal Water District under a 99-year lease agreement that will cost Garcia about a one dollar a year.
"When you create opportunities for all levels of art expression and sharing, when a kid can get up and speak and act out a scene, or recite poetry, it's a wonderful thing," Garcia told IECN in 2015. "It's a vision that we've worked towards for a long time."
It's become the center for the city's art renaissance, explained Cal State San Bernardino Adjunct Professor and poet Alex Avila.
"This center is a hub of creativity and culture," Avila expressed.
Garcia Center Board Member Jorge Heredia believes the center provides a platform for people who want to get involved with community affairs or in the creative arts.
"The purpose here is to provide the community a center they can come hang out at, while also engaging with other residents," said Heredia. "We want people to come here to make this a thriving place."
The Garcia Center is welcoming a new attraction–an art library. A ceremony to dedicate the center to Louis Fox is scheduled to take place on Sunday August 27 at 2:00 p.m.
On August 31 San Bernardino Generation Now will be hosting the 'San Berdoo Grandstand' event from 6 p.m. to 10 p.m.
For more information, call (909) 888-6400.