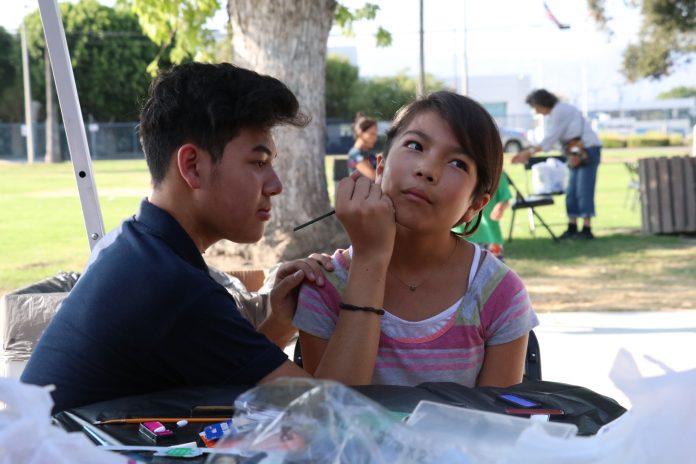 Tuesday's National Night Out event brought together community stakeholders, law enforcement, public safety officers, and residents for an evening of fun activities.
The annual event is an effort to emphasize community collaboration and bring together residents. The City of San Bernardino held four events–at the All Things Are Possible (ATAP) center, Blair Park, Nunez Park, and in the Fourth Ward.

Over 100 people strolled through the park to eat tacos, popcorn, dance, and get their faces painted.
The event at Nunez exceeded everyone's expectations, according to Marquez. Last year, San Bernardino Police First Ward Commissioner Jerry Zuniga held the event at his home, garnering several dozen residents.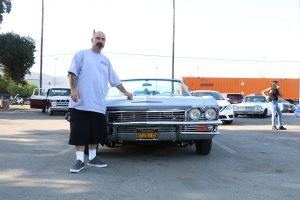 "This is what community is all about," said Marquez. "I'm glad it came together so well. I'm glad to see the community enjoying themselves."
Aquinas High School Associated Student Body representatives Roanne Mendiola, 16, and Marcie Encinas, 15, said the event was the ideal moment for residents and city leaders to come closer and build relationships.
"This brings all of us closer to our own community," explained Mendiola.
Encinas, who lives on the west side, believes this year's National Night Out brings forth special significance because of the Dec. 2 terrorist attack and the growing violence in the city.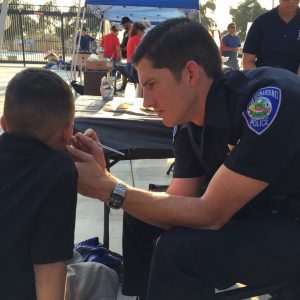 "In hard times and in adversity it's important we all come together," she said. "This is a chance for everyone to come out and demonstrate some unity."