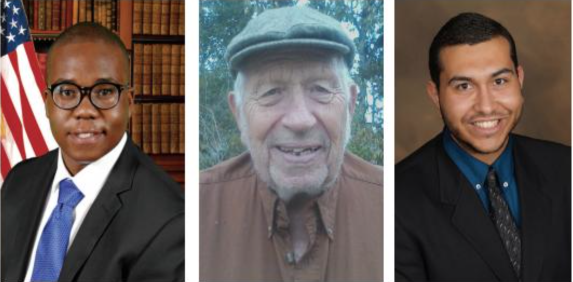 Nine people are vying for three seats on the San Bernardino City Unified School District Board of Education in this year's election slated for November 7.
Incumbents Dr. Barbara Flores, Abigail Medina, and Danny Tillman are facing competition from Mayra Ceballos, Robert Fick, Boulos Haddad, Anthony Jones, Pam Montana, and Eduardo Valverde for the three spots.

IECN interviewed Medina and Tillman last month to ask about their aspirations for retaining their seats. Medina says she's contributed to improving the district's increasing graduation rates, development of career pathways, restoration of after school program funding, and the expansion of restorative justice programs.
"I am more than honored to have received the support of more than 150 community leaders encouraging me to continue to represent the hard working families and students of San Bernardino," Medina said.
Tillman claims he brings fiscal responsibility to the board.
"When it comes to budgets, I'm probably among the most informed," Tillman said. "My goal is to always make sure money goes into areas that helps [students and parents]."
Fick, 87, is a retired school teacher that specializes in organizational and social behavior. He believes the key to improving the school district is transforming the curriculum to one that resembles "real world" situations.
"There are too many young people that lack job skills," Fick said. "Many of them finish school and are unemployed. Many of the skills they learn are unrelated to the real world."
Haddad is running a "simple campaign" that focuses on empowering students and their families.
"Every Student in San Bernardino deserves a chance at success," reads a statement on his campaign website. "No matter what their family's income is, no matter what their zip code – I draw the line in saying background should not equal a student's opportunity."
Jones, who previously ran for San Bernardino City Council seats in 2013 and 2015, claims that students are first and "politics never." He said as a former student of the district, he brings a unique perspective that can help solve issues.
"Every student needs to be college and career ready upon graduation," Jones expressed in a video posted on his campaign website. "The only way we will change our community is if we change the way we transition our children into our community as productive adults."
Montana explained on her Facebook page that she decided to run because of her love for San Bernardino and her passion for education.
"As a former elementary school teacher and current advocate educator for foster youth, it's a pleasure working with students to keep them on a higher education path that will lead to them to yielding careers in our community," said Montana.
Ceballos, Flores, and Valverde could not be reached for comment.
---
Join our newsletter for weekly wrap-ups of our community coverage, exclusive advertising opportunities and local business specials!