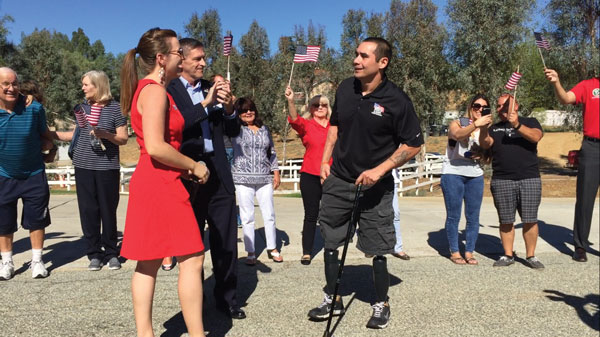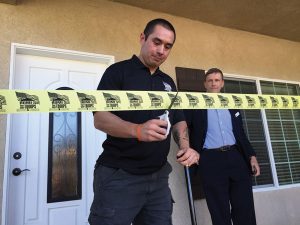 Welcome home, Hans.
Recently retired Marine Staff Sgt. Hans Blum received the keys to his custom built home in Redlands Sept. 25.

The specially adapted home — a four-bedroom, two bathroom house on Highview Avenue — was built by volunteers through Homes For Our Troops, a nationwide nonprofit helping rebuild the lives of disabled veterans. Blum's home is the 25th custom built home in California by the nonprofit.
Full of emotion, Blum cried in appreciation during a ceremonial neighborhood welcome attended by his new neighbors, Redlands community members and Home For Our Troop representatives.
"There's a rollercoaster going on right now," said Blum, as he toured his house on Sunday.
"All of this — it's unbelievable."
The organization built Blum's new home from the ground up after learning that his residence, a one-bedroom, one-bathroom apartment, was not suitable for his needs.
Blum was injured after conducting a Post Blast Analysis April 10, 2012 in Afghanistan. He stepped on an improvised explosive device, resulting in the amputations of both legs and damage to his left hand.
His new home has more than 40 major adaptations suitable for Blum as a disabled veteran and includes wider halls and doorways; automatic door openers; roll-under sinks, stove tops and counters; pull-down shelving; backup house generator; sliding windows; and roll in shower with digital temperature controls.
"There's so much space, it's huge," he said.
And to help Blum transition into his home, which he is expected to be fully move into by next week, local businesses and groups provided Blum with a little extra to make the move as smooth as possible.
Stater Bros. Markets stocked the fridge and cupboards with enough food, beverages and snacks to keep Blum filled for months. The American Legion Post 106 Auxiliary provided Blum with gift certificates to help furnish the house.
"You'll definitely be able now to lay down roots in Redlands," said Bill Ivey, executive director of Homes For Our Troops. "Welcome home."