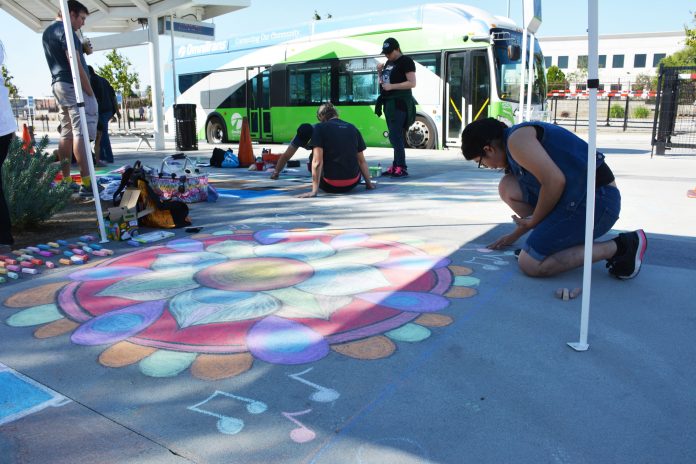 On Saturday, October 20, a kaleidoscope of colors will appear on sidewalks at the San Bernardino Transit Center (SBTC) as Omnitrans hosts its 3rd Annual Sidewalk Chalk Art Contest.
Artists are invited to depict the theme "A Trip Around the World" in chalk on a 6-foot-square section of concrete for a chance to win prizes. Online registration is encouraged as space is limited to the first 30 artists/artist teams.

New for 2018 is a free kids painting class for children 7 – 13, led by The Art Barn of Cherry Valley from 9:30 – 10:30 a.m.  Space is limited to the first 25 who sign up.
"We started with 15 contestants in 2016, grew to 20 last year and hope even more will come out this year," said Omnitrans spokesperson Wendy Williams. "We love showcasing the talents of local artists and seeing the transit center serve as a community gathering place along with being a busy regional transportation hub."
Located at the southwest corner of Rialto Avenue and E Street in downtown San Bernardino, the SBTC provides connections to 14 Omnitrans bus routes, Metrolink commuter rail lines and bus routes operated by Mountain Transit, Victor Valley Transit Authority, Riverside Transit Agency, and Pass Transit. About 6,000 passengers pass through on a typical weekday.
Prizes of $300, $150 and $100 Visa gift cards will be awarded for first, second and third place in the adult category for artists 14 and older. Children 13 and under may participate in a non-judged section; each will receive a free movie ticket. Radio station Hot 103.9 with DJ Jeff Pope will be on site with music and entertainment. Omnitrans will provide free promotional items and refreshments for all in attendance.