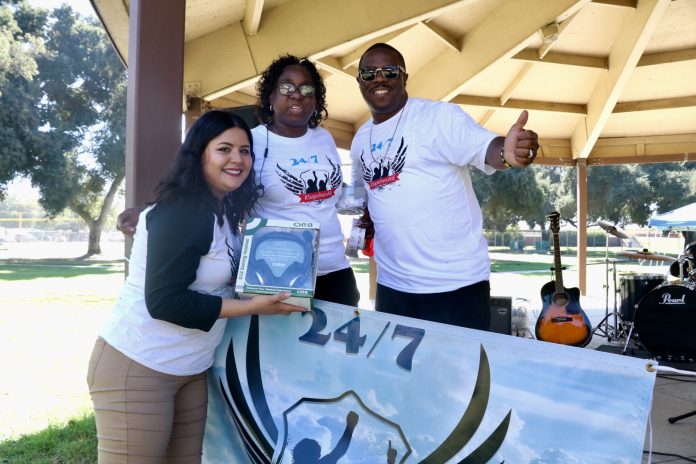 Community In Unity Founders John and Kathy Braxton have organized events at Veterans Park in Colton to reach out to those feeling down and out–displaced residents, transients, and drug and alcohol abusers.
With the help of County agencies and community nonprofits, those in need can secure an array of food, clothing, and resources for a limited amount of time through the nonprofit's support.

However, the Braxtons understand that there needs to be a long term solution to the growing issue of homelessness in the city. Providing resources and food are really only a "band aid" to the larger issue at hand, the Braxtons argue.
"What we don't have is a central location where we could house people, while also providing resources," said Pastor John, a former substance abuser. "We're feeding them, but the problem is retaining them and providing resources."
San Bernardino County's Point In Time homeless count for this year indicates Colton currently has 41 people living on the streets. Mayor Richard DeLaRosa told IECN in March that city officials have been meeting to figure out ways to confront the issue. He suggested training community resource police officers on techniques and procedures to serve the homeless on a case-by-case basis.
John Braxton agrees that homeless cases vary depending on social or economic factors. In many cases, the faith based leader explained, people are forced onto the street because of financial hardship.
"You have people living paycheck to paycheck," he expressed. "Say they have a check for $880. They have to choose between paying the rent or paying for food and clothing. They're doing the bare minimum to survive."
Kathy Braxton, who is also head of the Sick and Tired Transformation and Recovery Home organization, believes she and her husband can play a pivotal role in helping city officials address homelessness.
"I think we have enough resources to give people a ray of hope," she said. "We're willing to sit at the table to find solutions."