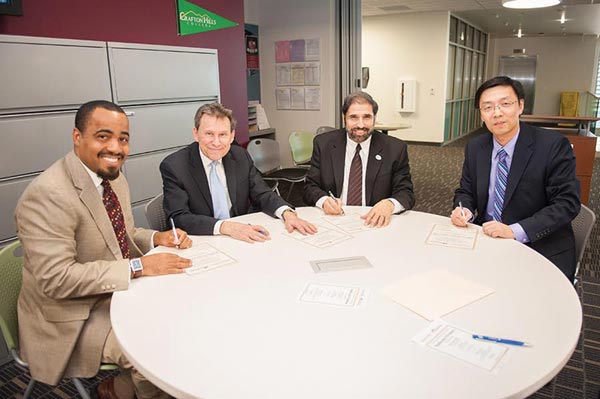 A transfer agreement offering a seamless pathway from Crafton Hills College to the University of Redlands was signed by university and college officials March 8.
The 'Pathways Promise Partnership' — signed by University of Redlands President Ralph Kuncl, Crafton Hills College President Wei Zhou, San Bernardino Community College District Chancellor Bruce Baron, and San Bernardino Community College District Board of Trustees President Joseph Williams — guarantees admission for Crafton Hills College students into the University of Redlands, "putting higher education within reach of every student," according to university and district officials.

"The transfer agreement with University of Redlands will provide a seamless pathway for our students to earn a bachelor's degree from one of the most highly-ranked private institutions in our own backyard," Zhou said in the release . "Even more exciting is the promise of a $10,000 scholarship for those students accepted into the program. With about 70 percent of our students receiving financial aid, this agreement alleviates the financial hurdle so many of our students encounter when they transfer from Crafton Hills College. Thus, it has the potential to take the widely discussed community college completion promise program to the next level."
Under the agreement, CHC will provide students with articulated transfer courses, develop student education plans and schedule courses in a pattern supporting a transfer as a junior-level student at the University of Redlands, according to the news release. As part of the agreement, Crafton students must earn a 3.1 cumulative grade point average in 24 transferable units, and they must complete college-level English and mathematics with a grade of C or better. It also encourages a path from Yucaipa/Calimesa Unified and Redlands Unified School districts to Crafton, then to the university, district officials said.
"Increasing our partnership with the University of Redlands to include Crafton Hills College is an impressive move for our Redlands Unified School District community," said RUSD Superintendent Lori Rhodes, in the release.. "We are thrilled to be part of this collaboration. Our Redlands Ready Commitment prepares students for college, regardless if students choose the path of a community college or a four-year university. Joining forces with the U of R and CHC will certainly increase opportunities for our students' to pursue higher education."
With the agreement, officials hope the college-going rate in the Inland Empire will increase.