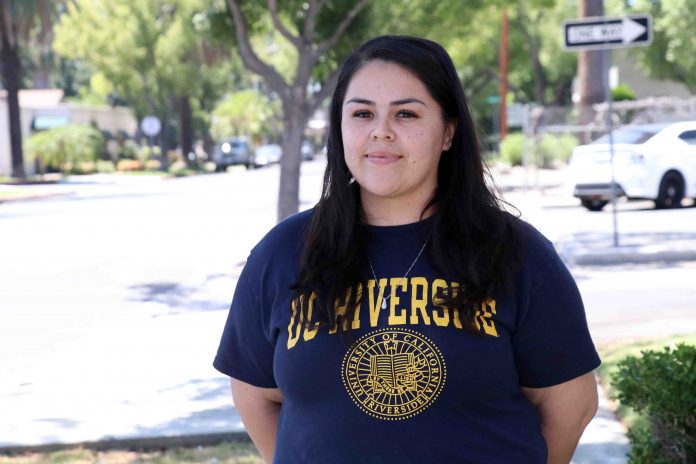 Growing up Nairobi Regis was a bright student–receiving multiple scholarships from universities across the U.S. for her track and field abilities.
Today the 25-year-old graduate of Cal State Los Angeles is struggling to transfer her education into employment. Like many immigrants across the nation, Regis, who was born in Venezuela to Haitian immigrants, is hoping people to understand the struggles of immigrants like her.

"By sharing my story, it will help people understand that we're not thugs or rapists," she said. "We're trying to survive. I mean, I graduated college, just like many people out there. I want people to understand that I'm just as hardworking as they are."
Regis is among several dozen people who will be sharing their immigration experiences through a photo exhibit that will take place on August 18 at the Riverside Art Museum. The 'Immigrants of the IE' showcase is a collaboration between the Museum and the Inland Coalition for Immigrant Justice (ICIJ), explained immigrant rights organizer Luis Suarez.
"The Coalition strategized and wanted to change the traditional narrative of immigrants that's always depicted in the media," Suarez explained. "This exhibit will do just that. It will portray an immigrant struggle that is diverse."
Participants of the exhibit are required to utilize disposable cameras to take photographs of items, locations, or people that demonstrate their immigrant struggle.
Regis said she intends to take photographs that demonstrate her Haitian cultural background and milestones.
"I want to show myself renewing my Deferred Action for Childhood Arrivals application to demonstrate that not all immigrant are Latinos," she said. "They usually don't think black people are recipients. For some people it's rare."
Fourth year UC Riverside Sociology student Aide Arana, who does not receive the benefits of DACA,  wants to depict the adversity she's overcome with education.
"I feel very proud that I'm willing to continue my education," Arana said. "Growing up I didn't have access to the resources to help me succeed in school; many people were unaware of my immigration status. My goal is to encourage other immigrant youth to seek their education and help them find resources."
The 'Immigrants of the IE' photo exhibit is part of the Shutdown Adelanto Week of Action, hosted by ICIJ, CultureStrike Magazine, and the Community Initiatives for Visiting Immigrants in Confinement (CIVIC). Demonstrations, cultural events, protests are scheduled to take place from August 16-20 throughout the Inland Empire and Adelanto.
For more information, contact Luis Suarez at (909) 975-9381.