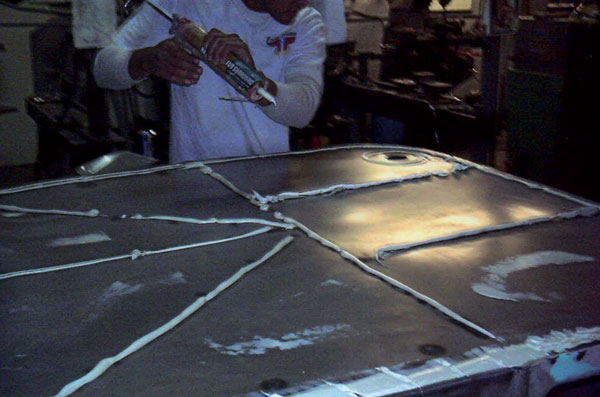 Hopefully our weekly hot rod build instruction has made you realize that a hot rod build is in steps, with mandatory completion of each step before moving on to the next step.
This week we are going to prepare the 26 T hot rod body for paint, which will require numerous man hours of sanding down the body surface where Bondo had been applied to fill-in holes, dents and uneven joints.

Bondo, is a soft putty-like material that hardens "Like a Rock" mixed with a catalyst and adhears to any kind of metal.
After the metal surface is cleaned and roughed up, the soft Bondo is smoothly applied using a putty knife, and with in minutes becomes Rock Hard adhearing to the body.
Now this is when the numerous hours are spent, using a body file and course sandpaper to shape the Bondo to conform to the lines and contour of the 26 T Body. After this task is completed, a wet sand and is performed to complete a smooth transition of eliminating the hole, dent or uneven joints. Auto body is an Art Form and it takes many years of Hands-on experience to master, and Fred Hernandez of Fred's Frames in Rialto is one such master and mentor.
Fred instructed car owner and Motocross bike racer Zac Pachinko and friends on how to correctly prepare the 26 T hot rod body for paint, so take a closer look at just how well Zac and friends prepared the body which made Fred's Burgundy Metal Flake paint job most admirable.
By Bobby Joe Holman