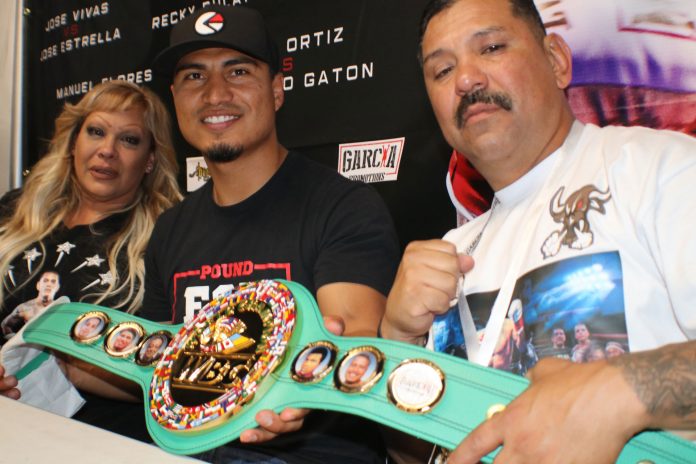 A drive by shooting in Riverside, March 2019, left Colton Native and professional boxer, Izaac Colunga, 25, paralyzed from the waist down.
"Izaac was at the wrong place at the wrong time and was shot in the back of the neck, during a drive by shooting in Riverside; leaving him paralyzed from the waist down," Zeferino Ramirez, CEO of Garcia Promotions.

Colunga, who is signed to Garcia Promotions, is undefeated, with a 3-0 record.
"He's a hometown hero and a Centennial High School football superstar alumni; Izaac's a great young man and he can fight. It's tragic to see this happen to a great young fighter," Ramirez said.
"Initially, Izaac was on life support. Now he is in the rehabilitation stage of his long recovery. He still does not have complete feeling in his feet and hands. But, he recently told his dad that he felt hunger in his stomach and that alone, is a step forward," continued Ramirez.
Colunga's father, Ruben Colunga, was contacted by text message to get an updated status on the professional fighter's health.
"Izaac is currently in surgery at the moment. He'll be under the knife for about six hours today," said Ruben Colunga, on June 25, at 11:58 a.m.
"Izaac suffers from severe repercussions of the bullet that now sits in his vertebrae. With the risk of becoming paralyzed, funds are needed for emergency care and treatment at this critical time," said his mother Carrie Colunga.
According to Ramirez, Colunga is in Colorado receiving various rehabilitation treatment, and his parents had to quit their Inland Empire jobs to be with him during his journey through treatment.
"On Sunday, June 23rd, Mikey and Robert Garcia, owners of Garcia Promotions, held a boxing fundraiser in San Bernardino to raise funds for Izaac's rehabilitation treatment," Ramirez said.
Over 620 community members purchased tickets to the boxing fundraiser, which featured 4-round professional bouts, mariachis and Aztec dancers.
"Thank you to all of our event sponsors who helped make the fundraiser happen; including Prohibition, Whisky Lounge, Verde Wheels, Ethica Clothing, Latino Chamber of Commerce, thank you to the Garcia and Colunga Family, and all the fans that came out to support," concluded Ramirez.
Colunga's GoFundMe page is located at https://www.gofundme.com/f/team-colunga.