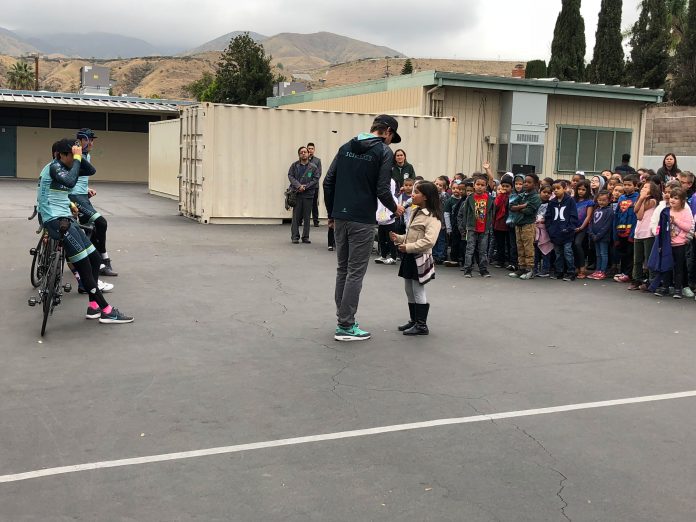 This week, professional cyclists competing in the Redlands Bicycle Classic that kicked off on May 1 in Big Bear, California took a break from their preparations to visit students at Belvedere Elementary.
The cyclists from the "303 Project" team spoke to over 600 students on campus about the sport of cycling, the importance of a healthy lifestyle, nutrition, and bike safety.

They also encouraged the students to consider taking part in The School Duel, an event in the Redlands Bicycle Classic that encourages students from nearby cities and school districts to get involved by riding themselves on the same course as the professionals!
Other participating cycling teams visited Redlands, Yucaipa, Calimesa and San Bernardino School Districts, including schools in Highland which will cheer on riders during the Friday stage race.
As title sponsor of the Redlands Bicycle Classic, the San Manuel Band of Mission Indians has given cycling teams the ability to add more school visits to the roster this year. The Tribe is also hosting the further stage for both the women and men's circuit races, on May 4. at the San Manuel Village.
The Redlands Bicycle Classic has the distinction of being the first race on the 2018 USA Cycling National Racing Calendar, a series of competitive cycling events held throughout the country during the course of approximately six months. The race has been a community staple since 1985 and continues to bring the thrill of professional sports to the Inland Empire.