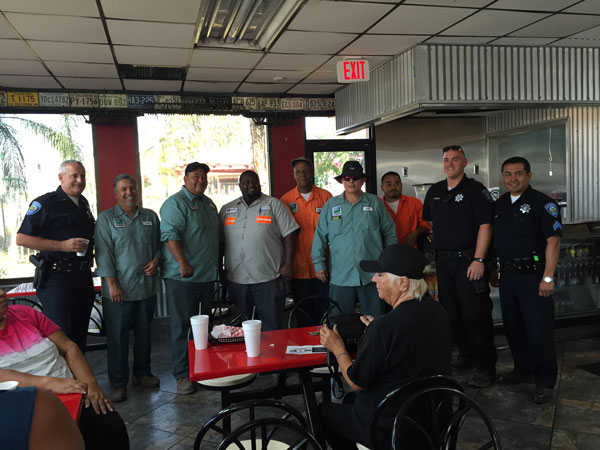 The San Bernardino Police Department in the past year has vamped up its efforts in forging community relations and actively seeking residents' opinions as to their chief concerns regarding crime. The overwhelming response wasn't the high crime rate, rather, the blight that has overtaken the city. Hence the Quality of Life team was established a year ago, charged with addressing issues of blight, trash and subsequent homeless encampments.
The 6-person team consists of two staff members from Public Works, two from Parks & Recreation, one landscape inspector and a police officer.

"We engaged with the community to determine how they want to be policed, and the overwhelming complaints were to do with the way the city looks," SBPD Southern District Commander Lt. Richard Lawhead said. "The idea was for us to clean the place up for business owners and residents who have become frustrated with repeated incidents of blight on or near their properties. If it looks bad, it is bad."
According to Lawhead a simple household item such as a mattress can be a hassle to get rid of. It costs $30 for its disposal and for some the cost is too steep when they are struggling to provide food for their families. The alternative is to dump it illegally. This, Lawhead said, tempts homeless individuals to claim it, resulting in an impromptu encampment.
"There is nothing illegal about being homeless, it's their right to be so, but when it infringes upon the rights of someone to use a sidewalk or the area being littered with trash, human defecation and drug syringes, we intervene," Lawhead explained. "We also work with the school district to ensure that our kids are provided safe pathways to schools."
Burrtec offers bulky item pick-ups twice a year at no charge for residential home tenants, but not for multi-housing units where numerous evictions occur and a heap of mattresses left behind.
At the outset the Quality of Life team was on-call once a week, today they operate six days a week responding to 30 sites a day.
For Lawhead the state of the city is personal. With 25 years of service to San Bernardino he says he owes his lifestyle to this city, and is sincerely committed to residents' wellbeing.
"A culture change needs to occur within the police department for officers to feel a connection to the community in which they serve," said Lawhead, who has volunteered extensively with youth intervention programs throughout the years. "New officers need to realize that their success is incumbent to this city thriving, and we are slowly seeing a shift in that direction."
Residents are urged to engage with the police department and to report blight, trash and homeless encampments that pose a risk to public safety. A license plate number goes a long way, but Lawhead discourages residents from jeopardizing their personal safety by actively engaging with perpetrators.
The Quality of Life team can be reached via the city's direct number (909) 384-7272, the GORequest app, and on the city's website "SB Access Online."