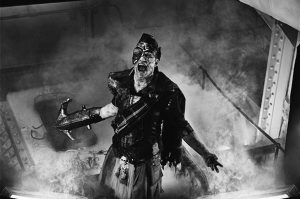 It's time to board one the world's most haunted ships — The Queen Mary.
As we all know, I love and fear a good pee-in-my-pants scare, and The Queen Mary's Dark Harbor is a good trigger.
I mean, really, what's better than walking through an old creaky ship and getting thrown right smack in the middle of its haunted history?
This year's haunt, which opens Sept. 29 and runs through Oct. 31, offers 22 terrifying nights of Dark Harbor, and tells the truly haunting tales of the Queen Mary, including those of its eight evil spirits, Iron Master, Captain, Samuel the Savage, Graceful Gale, Half-Hatch Henry, Scary Mary, Voodoo Priestess and Ringmaster.
But this year, the tale of 'Iron Master' is told…
His torrid legend is brought to life through "Intrepid," a new maze that transports guests aboard a steamin' locomotive, back to the birthplace of the Golden Era of Travel –Scotland's storied shipyard of Clydebank.
"As the tale is told, Ivan was the ship builder and original iron forger of the majestic R.M.S. Queen Mary. In the early 1930s, Ivan's shipyard was commissioned by Cunard to build the storied Scottish vessel. Eager to rise to the challenge, he scoured the world in search of a flawless crew and devoted his life to what would become the most famous shipyard in history. The R.M.S. Queen Mary set sail in 1936 with Captain at the helm and unknowingly, Ivan in the hull.
One fateful night, a mysterious steam engine rolled into his shipyard rail station and beckoned Ivan. Before he realized it, he had boarded the deadly train and was barreling toward darkness. By the end of the dark journey, he realized he had been transformed into a terrifying creature – part metal, part monster. Over the century, his corpse decaying, Ivan was forced to replace pieces of his rotted flesh with cast iron – the same from which he forged his beloved ship. A slave to his craft in life, so too, would he become in death. Cursed for eternity as protector of the Queen Mary, Ivan is now…Iron Master.
Through the best of storms and worst of wars, the R.M.S. Queen Mary remained the fastest ship on the seas until she was laid in her eternal resting place in Long Beach. Befittingly dubbed "The Grey Ghost", she eerily hovers in the harbor, marking her 80th year afloat.
It is said that the spirit of Ivan – the Iron Master has grown restless and the Ringmaster's circus freaks have overstayed their welcome. Now more than ever, he is heard banging his iron clad limbs as he trudges the ship's hull. Called upon by the Captain, Iron Master has disembarked to restore order to the steely shipyard in the dark harbor."
Also new this year to Dark Harbour is PANIC, a one-of- a-kind 4-D Virtual Maze Experience
•Battle against evil in HEX Paintball Shooting Gallery
• VOODOO HOUSE features Happy Hour from 6 – 7 p.m. with potions and Tequila vs. Mezcal tasting flights
Returning mazes include:
• Circus, Deadrise, Soulmate, B340 and Lullaby
Additional attractions:
– Sideshow, a secret bar; Creepy Cabanas; R.I.P. Lounge; Sinister Swings; and a mainstage DJ putting on nightly shows plus special guest: Jewels Oct. 2 & 31 at 9 p.m.
General admission tickets to Dark Harbor begin at $20 and can be purchased online.