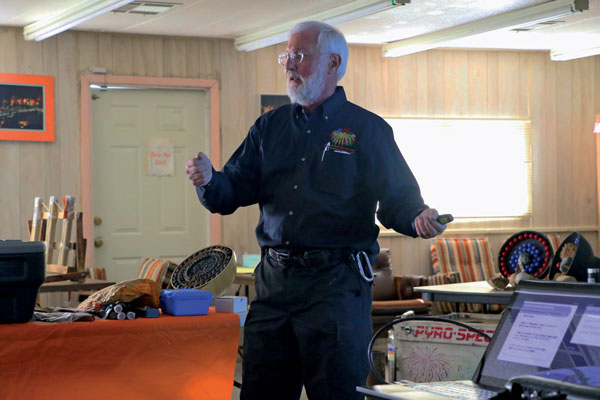 Pyro Spectaculars, the largest fireworks company on the West Coast and the largest in the country, is headquartered in the City of Rialto. Pyro Spectaculars also has plants in Oakland, Sacramento, Fresno, and Rocklin, California. The company started in the 1900's and has been producing pyrotechnic displays and shows for over 90 years.
On Friday, October 13th Pyro Spectaculars held a one-day pyrotechnics beginners 101 course, which prepares professional apprentice Pyrotechnicians for a future in the industry. It's the first step in the licensing requirements that must be met before an "operator's license" is issued by the State of California. An online supplemental training class was also part of the course. These classes are not taught often and are hard to find.

Eric Elias, the main training instructor for the course, has been in the pyro business since 1978, and has worked on hundreds of pyrotechnic displays and shows. Eric holds several certifications in pyrotechnics including commercial, theatrical, special effects, and is very passionate about his work. Eric's shares his pyrotechnic passion, experience, and knowledge with those starting off in the pyrotechnic profession.
This course attracted students from several surrounding counties. The class covered several aspects of the business, including history, safety, equipment, paperwork, licensing requirements, setups, types of pyrotechnic products available, etc. The class concluded with some actual hands-on firework display setups that were being held in various locations in the area by experienced licensed pyrotechnic operators.
Pyrotechnicians have been traditionally mostly male. Eric stated that he started recruiting more female apprentices as early as the 1990's. The current pyrotechnic class included several young ladies who were eager to learn more about the pyrotechnic field. For information on future Pyrotechnic courses, contact Margo Lund, Pyrotechnic Personnel Manager at 909-355-8120 or go to http://www.PyroSpec.com for online classes.
---
Join our newsletter for weekly wrap-ups of our community coverage, exclusive advertising opportunities and local business specials!