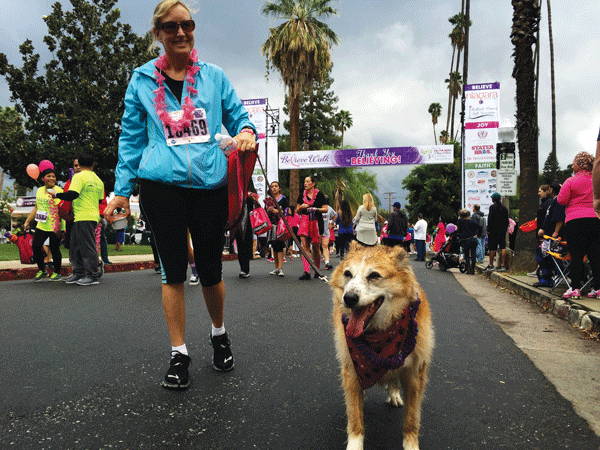 Thousands are expected to gather Sunday in Downtown Redlands for the 9th annual Believe Walk and registration is still available for those looking to participate in the rain or shine event.
The walk—in support of local programs and services available for all types of cancers, is hosted by Stater Bros. Charities and Inland Women Fighting Cancer—kicks off at 8 a.m. along Orange and State streets.

Late registration for the walk can be made Friday Sept. 30 at Pathway Church, 611 E. Cypress Ave. in Redlands between 7 a.m. to 7 p.m. or the morning of the event beginning at 6:30 a.m. Registration for individual walkers is $50, $25 for walkers ages 4-12 years old, and walkers 3 and under can participate for free.
A pre-walk program begins at 7:45 a.m. and includes a Survivor Celebration area.
This year's event offers only a 5K walk which takes supporters along a family and dog friendly route lined with fun-filled entertainment including live music, and motivational cheer groups. A map of the route is available at www.believeinlandempire.com. Teams are encouraged to bring along and walk with their pups as part of ' Bark and Believe.' Walkers with four-legged friends can stop by the Bark & Believe booth along State Street to pick up doggie goodies and a doggie waste bag. Doggie waste stations and water stops will be available on the routes. The Bark and Believe booth is sponsored by Varner & Brandt LLP.
The walk concludes with a festive Believe Bash celebration, with confetti and all, at the Redlands Bowl. Dozens of vendors will be on hand offering giveaways, food and resource information.
Since the walk's inception in 2008, $3 million has been raised to help local cancer fighting organizations including Redlands Community Hospital, Loma Linda University Cancer Center and St. Bernardine Medical Center in San Bernardino.
So far, $235,188 has been raised to help meet the 2016 online registration goal $375,000.
One hundred percent of the registration fees from the Believe Walk fund local cancer programs and services for all types of cancer in the Inland Empire region of Southern California.
To learn more about the 9th annual Believe Walk, visit www.believeinlandempire.com.