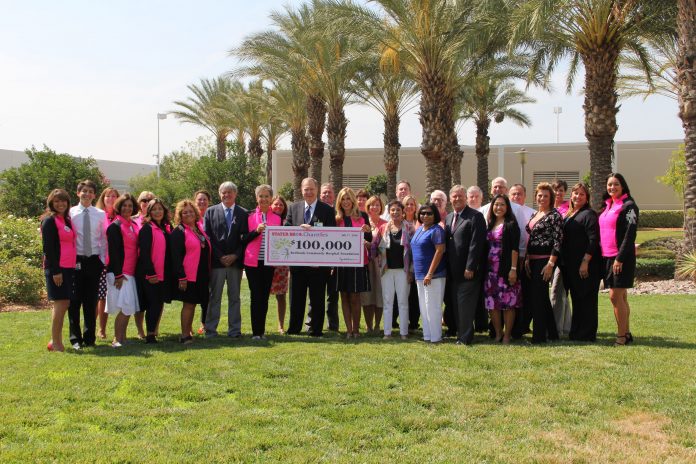 Stater Bros. Charities and the Inland Women Fighting Cancer (IWFC) awarded the Redlands Community Hospital Foundation (RCHF) a $100,000 grant to purchase a Savi SCOUT system, a wire-free breast localization system to improve breast cancer biopsy and lumpectomies for patients.
Peter Van Helden, president and CEO of Stater Bros., Nancy Varner and Annie Sellas, founders of the IWFC, presented the check to Jim Holmes, president and CEO of Redlands Community Hospital, RCHF board members, and staff.

The Savi SCOUT wire-free breast localization system is the first and only non-radioactive implant that uses micro impulse radar technology to provide real-time surgical guidance during breast surgery. Placed up to 30 days before surgery by a radiologist, a tiny reflector is inserted into the breast. During surgery, the system's hand piece accurately detects the location of the reflector and the tumor. The ability to strategically plan the incision can result in less tissue removed during surgery, a shorter procedure, more precision, easier recovery, and better overall outcomes.
Previously, women needed to arrive several hours before their operation to have physicians thread a wire into their breast (known as wire localization), and then wait. The Savi SCOUT system eliminates the wait time and the discomfort of the wire.
Each year, Stater Bros. Charities, a non-profit that supports the critical needs of the Southern Californians, teams up with IWFC to host the Believe Walk, a community-based effort that attracts more than 12,000 participants to raise funds for cancer treatment and support services for Inland Empire communities.
"Redlands Community Hospital completes an estimated 5,800 mammograms annually and nearly 400 breast biopsies, one-third of them positive for cancer," says Jan Opdyke, president of the RCHF. "The support we receive from Stater Bros. Charities' gives us the opportunity to provide access to the some of the latest technology and improve our patients' comfort and outcomes."
The American Cancer Society estimates that 252,000 new cases of breast cancer will be diagnosed in women during 2017, resulting in more than 40,000 deaths. Many of those deaths might have been prevented with earlier detection and diagnosis.
Redlands Community Hospital's Women's Health Imaging Center is a 3,300 square-foot facility that provides women with mammograms, breast biopsies, bone density screening exams and other procedures. The center provides no-cost health education for women and allows patients to receive all necessary imaging services in one location.
For more information about Redlands Community Hospital, please visit: www.redlandshospital.org or call: (909) 335-5500.