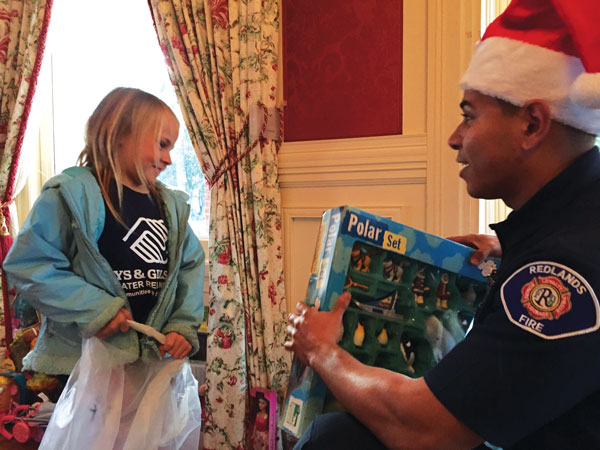 Redlands firefighters were different sorts of heroes last week playing Santa to hundreds of children, making Christmas wishes come true.
Seven hundred children — all members of the Boys & Girls Clubs of Greater Redlands-Riverside — were bussed over to the Burrage Mansion in Redlands for the nonprofit's annual holiday extravaganza to personally hand-pick a toy to take home.

The toys were donated through the fire department's annual Spark of Love toy drive, and from local businesses including K-FROG 95.1 FM and iHerb.
"Our goal is to serve the community," said Redlands Fire Capt. Reggie Brown. "That's the whole function of the department and we do that in many different ways. This (event) is just another way we give back."
And to provide youngsters with full holiday cheer, crafts and activities were set up throughout the grounds to keep little ones busy before sitting for storytime with the big guy himself — Santa.
Children were then taken to one of two rooms filled with everything from toys to bicycles, to personally select their gift to take home. Christian Dominguez, Redlands firefighter-paramedic was among the firefighters helping children select their perfect toy.
"This is my first time participating in the event and it's very fulfilling to be able to be a part of something like this. The look of happiness on kids faces is the best part."