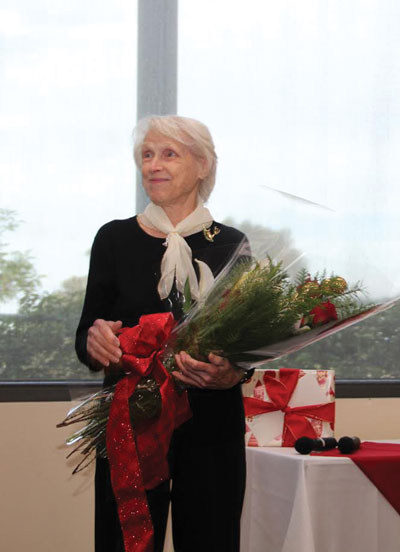 Redlands Community Hospital, much like many others, relies heavily on its volunteers to ensure daily functions operate smoothly.
From running the gift shop to providing emotional support, helping out in nursing units or in emergency services, RCH volunteers offer invaluable support to patients, visitors and staff.

To ensure their helping hand and unwavering efforts have not gone unnoticed, RCH recently honored their volunteers during its annual Auxiliary Holiday Brunch and Installation earlier this month at the Redlands Community Hospital Stan and Ellen Weisser Education Pavilion.
"We celebrate our volunteers for their continued time, energy, skills and talents they generously give, helping us make Redlands Community Hospital better and our community stronger," said Jim Holmes, president and CEO of Redlands Community Hospital, in a news release.
"It is our volunteers who exemplify the true spirit of giving by bringing their passion and determination each day to make a difference at our hospital."
Minnie Robinson, an 18-year Auxiliary volunteer, was honored for just that.
Robinson received this year's Mary Kimberly-Shirk Volunteer Award of Excellence, for her nearly two decades of service and more than 10,000 hours with the hospital.
She has held leadership roles on the Auxiliary Board as the Service Awards Chair, Hours Awards Chair, as well as the Chair of Volunteer Services. Robinson has supported a number of the hospital's special events as well as community health fairs. She can be found regularly in the hospital gift shop, welcoming visitors or purchasing gifts for patients.
The Kimberly-Shirk award, named after Mary Kimberly-Shirk, the first member of the hospital's auxiliary, is presented each year to an outstanding volunteer who demonstrates leadership, enthusiasm, loyalty, energy and compassion for patients and their families.
In addition to the award presentation, the program included the installation of 2017 Auxiliary Officers Diane Brown, corresponding secretary; Betty DeLeon, recording secretary; Donna Chaffey, treasure; and Wendy Brady-Posjena as vice president, along with musical entertainment by the Citrus Valley High School Choir and the unveiling of the Auxiliary Quilters 2016 patch. The patch will be mounted on the hospital main lobby wall along with the other quilt patches from previous years, according to the news release.
The Auxiliary also presented the Redlands Community Hospital Foundation with a $65,000 check, all of which was raised through proceeds from the Auxiliary Gift Shop, book fairs, quilt ticket sales and other fundraising activities.
To learn more about Volunteer Services at Redlands Community Hospital, visit www.redlandshospital.org or call 909-335-5526.