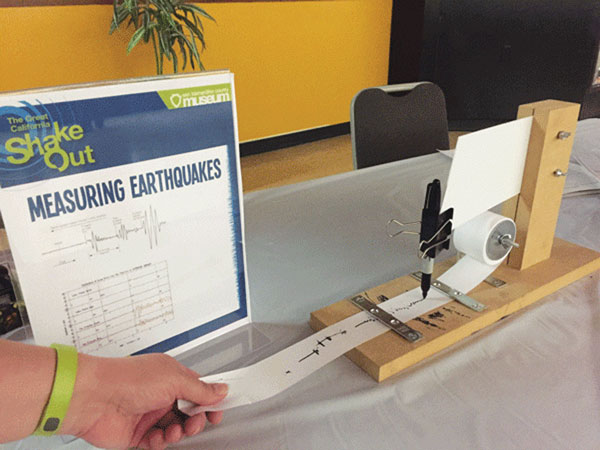 The San Bernardino County Museum and city of Redlands are getting ready for the Great California ShakeOut.
A "ready for the ShakeOut" event is planned Oct. 15 from 11 a.m. to 4 p.m. at the museum , featuring the county's Seismic Simulator and other earthquake preparedness activities and vendors.

"The county museum is committed to educating our community about the importance of earthquake preparedness, and to promoting the annual Great California ShakeOut to everyone" is ready for the inevitable Big One,"
said Melissa Russo, museum director, in a news release.
Hands-on activities and demonstrations will be part of the event.
To join in on the preparedness event, the city of Redlands will join millions of Californians Oct. 20 to participate in the Great California Shakeout earthquake drill.
At 10:20 a.m. all city departments at the Redlands Civic Center, Police Annex and other facilities will be evacuated. Customers doing business at that time will be advised of the evacuation and directed where to go.
As part of the drill, emergency responders will review procedures and communications protocols, and volunteers from the Redlands Emergency Communication Group and the city will activate emergency communications as part of the Emergency Operations Center on Park Avenue to ensure that first responders will receive EOC activation notices in a timely manner.
The Great California ShakeOut is an annual drill, this year scheduled at 10:20 a.m. on Oct. 20. Schools, business, government agencies, and individuals will Drop, Cover, and Hold On to practice how to react during an earthquake.
Last year more than 43.5 million people around the world participated Great ShakeOut drills. In California, the drill is held statewide annually on the third Thursday of October, and is organized by the Earthquake Country Alliance (www.earthquakecountry.org), according to a news release.
To participate in this year's ShakeOut go to www.shakeout.org/california/register/ and pledge your family, school, business or organization's participation in the drill. Registered participants will receive information on how to plan their drill and how to create a dialogue with others about earthquake preparedness. All organizers ask is that participants register (so they can be counted and receive communications), and at the minimum practice "drop, cover, and hold on" at the specified time. It is only a five-minute commitment for something that can save your life. It all begins with registering, which is free and open to everyone.
The San Bernardino County Museum is at 2024 Orange Tree Lane in Redlands.
General admission is $10 for adults, $8 military or senior, $7 students, and $5 children ages 5 to 12.
For more information, visit www.sbcountymuseum.org.
To learn more about the Great California ShakeOut, visit www.shakeout.org/california/.