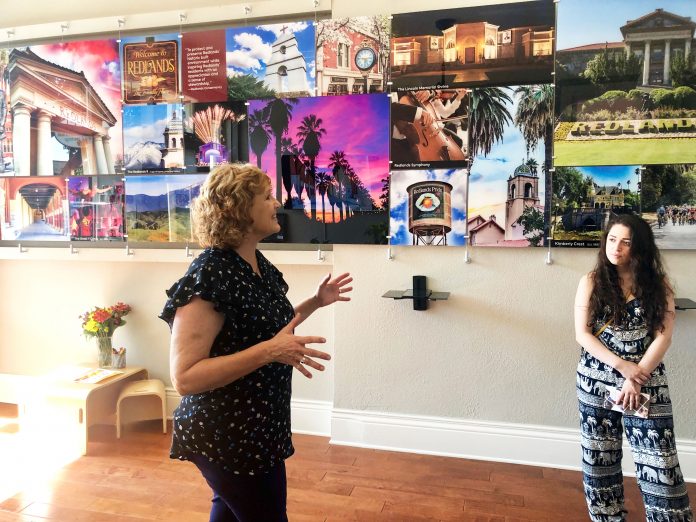 Redlands' new Visitor Center quietly opened Wednesday (June 12) downtown.
This storefront is a public hub for information about where to find Redlands products or services; for maps of the city, of businesses and of recreation trails; and for Redlands items for sale, like art, T-shirts and mugs.

The grand opening will be in late July, but people are already coming in and asking for advice on where to eat, what to do and whom to hire for projects around the house.
The 800-square-foot center, founded by the locally owned Redlands promotional business About Redlands, aims to build awareness of Redlands attractions among residents and visitors; to foster collaboration among residents, organizations and businesses; to provide concierge services to all who seek to experience Redlands; and even to instigate activities, such as tours and events.
The University of Redlands and the Rochford Foundation have contributed to the venture as major sponsors, and local businesses are playing a part too. State Street pet-supply store Furry Face, for instance, has supplied a dog bowl and treat jar — because the Visitor Center is dog friendly.
There is also a family room for nursing or changing babies, or giving children a moment to recharge when shopping, eating and playing downtown is wearing them out.
Service clubs and local businesses are invited and encouraged to contribute as partners and sponsors, and to use the facility for tastings, meet-ups and an outlet for information.
The center is in a historic building at 14 Fifth St., between Citrus Avenue and State Street in Redlands, at the entrance to the Orange Street Alley park strategically located to enhance the tourism energy created by "Umbrella Alley."
This is likely the first visitor center in the town's history, (as no records show there ever was one) and happens to be right where carriages would drop travelers off when they first arrived to Redlands at the turn of the 20th century by train.
The center hours are Tuesday – Saturday 10 a.m. – 6 p.m., Sunday 12 – 4 p.m.
For more information, visit https://aboutredlands.com/businesses/5213-redlands-visitor-center