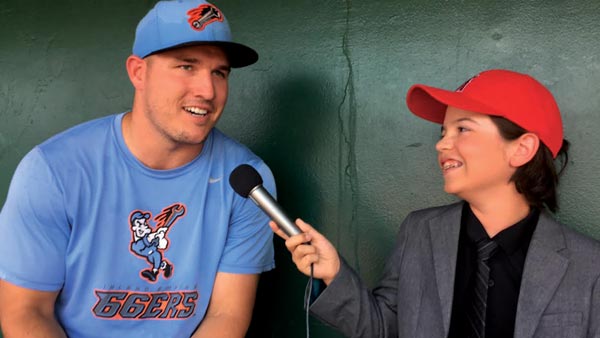 I had the chance to interview Mike Trout, the superstar center fielder for the Los Angeles Angels of Anaheim, while he was rehabbing for the Inland Empire 66ers in San Bernardino on July 6.
This was a dream come true for me, since I am his biggest fan.

So I decided to do a little Q&A with him.
Here's what I've been dying to know:
---
Q: Let's start with the question on everyone's mind… how are you feeling?
A: Feeling good, you know. I got through last night, ready to go out there tonight!
---
Q: How did you feel when you were selected to the All Star game and how have you been handling not attending this year?
A: It is always a great feeling getting selected to be in the All Star game. The fans have been great by going out there and voting for me and representing the Angels. It means a lot to me. But, obviously not attending it is a little bumming. But I have to do what is right for my hand and what is right for the team.
---
Q: You are rehabbing at the Inland Empire 66ers, does this bring back memories of your time in the minors?
A: It does. I was just talking to a couple of the guys… I had played a couple of games out here. Playing in Rancho was a fun time and a great experience.
---
Q: Speaking of memories, let's talk about your major league debut. I was luckily at that game! Can you describe how you felt that day?
A: It was a very fun day. I was very anxious, my adrenaline was rushing. The game went so quick and I was having so much fun. It was just a dream come true.
---
Q: How do you deal with things like people recognizing you, me wanting to interview you, and fans asking to take photos? How do you stay grounded?
A: Yeah, no… I look forward to talking to people like yourself. Just seeing people outside the baseball stadium or outside the field, it means a lot. It makes you feel like you are doing something on the field and every time someone comes up to you, you want to put a smile on their face.
---
Q: Do you get nervous anymore, and if you do, how do you handle those nerves?
A: I wouldn't say nervous, just anxious. You want to do so good. You just want to go out there and play ball. Once the game starts you need to just play through.
---
Q: What advice would you give to kids my age who want to play professionally?
A: Work hard, get good grades in school. It starts there. My parents were both teachers and they made me get good grades. Just work hard. Once you get to high school start weight training, and try to prove people wrong!
---
Q: I think we all really want to know… how does it feel when you rob a home run?
A: (laughs) When I rob a home run it feels great. Love seeing the reaction of the hitter who hit it and the reaction of your pitcher.. You know, it means a lot to the team and saves a run for the team.
---
I would like to thank Joe Hudson of the Inland Empire 66ers, Tim Mead from the Angels, and of course Mike Trout, for this amazing experience.