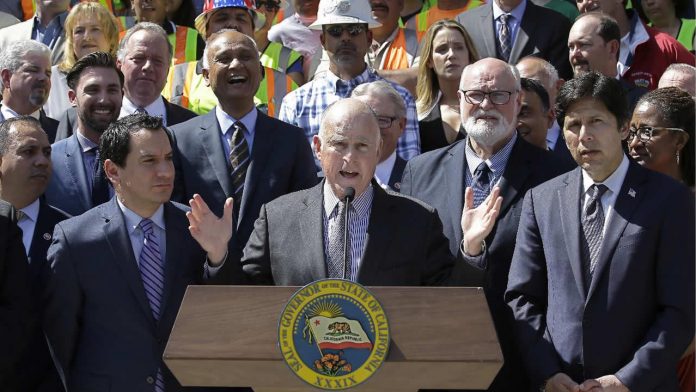 Inland Empire residents and officials have demonstrated mixed feelings about a transportation tax approved last week by the California legislature.
Senate Bill 1–the Road Repair and Accountability Act–will raise gas taxes, registration fees, and impose a new fee on zero emission vehicles in hopes of generating billions of dollars to fix roads and transportation infrastructure.

The legislation squeaked through both the Senate and Assembly last Thursday, after hours of deliberation.
San Bernardino County Transportation Authority (SBCTA) Chief of Legislative and Public Affairs Tim Watkins believes SB 1 will strengthen San Bernardino County's existing plans and goals to improve aging road infrastructure and public transportation when it goes into effect at the end of the year.
"On the surface, it appears that the primary focus of this new legislation seems to be about taking the first steps to addressing the current needs of our streets and roads," Watkins said. "As such, a significant part of the investment will go to our cities, the county and our transit operators to work on their aging infrastructure."
According to the state's Department of Transportation, San Bernardino County is estimated to receive $382 million through the tax. This adds to existing funds the region is receiving through local initiatives. The San Bernardino Valley–which encompasses Chino from the west to Yucaipa in the east–is projected to receive about $4.5 billion for transportation projects over a decade span due to Measure I–a half-cent sales tax approved by voters back in 2004.
SBCTA has already identified projects on both the I-10 and I-15 freeways that go toward the legislature's plans to address traffic congestion and freight movement, Watkins argued. In addition, the increase in funding to capital projects will strengthen the agency's efforts in completing plans, such as the Redlands Passenger Rail Project and West Valley Connector Project.
"The voters of San Bernardino County have already shown a commitment to transportation improvements through their support of Measure I," Watkins said. "However, it needs to be noted that the national goods movement sector plays a role into the impacts on our facilities and quality of life. Thus, state and federal investment leveraging our Measure I dollars is essential not only to us, but to the broader regional, state and national economies."
Center for Community Action and Environmental Justice Executive Director Penny Newman claims that a provision added to the bill to prohibit regulators from taking old heavy-duty trucks off the road undermines previous efforts to reduce pollution.
"The trucking industry added the Dirty Truck provision to SB 1 at the last minute, holding the promises of SB 1 hostage in exchange for the right to use old trucks that give our children asthma, poison our air, and kill our family members," Newman said in a press statement. "By not demanding the removal of the Dirty Truck provision from SB 1, our legislators betrayed us."
San Bernardino resident James Albert, 25, thinks California should adopt an oil extraction tax, instead of forcing residents to incur costs. The tax, he argues, will encourage industry to adapt to renewable resources and alleviate the burden on low income residents.
"If companies want to take oil out of the ground, they should be taxed on it," Albert said. "We can use that money for transportation."
Marven Norman, Policy Director with the Inland Empire Biking Alliance, understands people's frustrations with further tariffs. However, he believes the gas tax increase is necessary to improve the region's "crumbling" infrastructure.
"The simple fact of the matter is that the roads are not going to fix themselves," said Norman. "This is the only option that addresses the issue of lackluster roads. An increase of 12 cents is less than five percent of the average price of gas at the moment and will be an even smaller portion if [and] when gas prices head up again later this year."