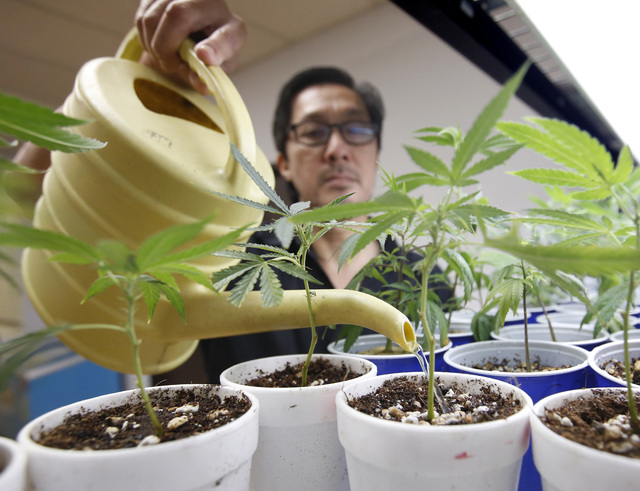 In a few weeks Colton residents over 21 years old will be allowed to cultivate marijuana inside their homes–with the expectation that they comply with city requirements.
The City Council adopted a new law Tuesday, the Residential Indoor Marijuana Cultivation Ordinance (RIMC), which will allow adults to obtain annual permits to construct grow areas inside their homes.

More than one individual can obtain a permit from the Development Services Department, explained City Attorney Carlos Campos. However, the maximum amount of plants that can be grown inside a private dwelling will be set to six. Only one cultivation area is allowed per household.
RIMC was developed in response to the passage of Proposition 64 (Adult Use of Marijuana Act) last November. The statewide law allows cities to impose their own regulations, so long as it doesn't infringe on residents' rights to reasonably cultivate.
According to a staff report prepared by Development Services Director Mark Tomich, the permitting process intends to address concerns with installation and maintenance of grow areas. Tomich also said indoor cultivation areas will undergo thorough inspection by the fire police, and code enforcement departments.
"The building official will look at the electricity usage, safe wiring, and moisture to make sure there is no impact on the structure itself," he said.
Despite expressing concerns regarding application criteria and legal ambiguity, the Council moved forward with adoption.
"At this point we get something on the books," said Toro. "It's better than nothing."
The City Council also approved the creation of a Prop. 64 ad-hoc committee to receive knowledge and input to adequately address cannabis concerns.
"Industry [is] willing to bring their attorneys, doctors, and scientists to help implement and regulate [marijuana] at the local level," said Mayor Richard De La Rosa. "The goal is to pin down experts that can help Colton address the pros, cons, regulation, zoning, and other legal issues."