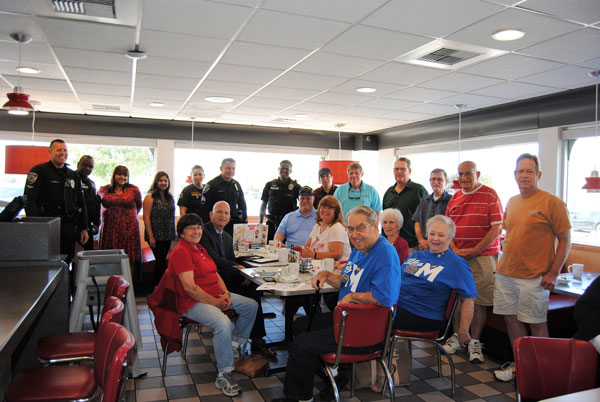 The monthly Rialto Police Department's Coffee with the Chief was held at the Denny's Restaurant at 1377 W Foothill Boulevard on Tuesday, May 8. About 25 people were in attendance along with several police officers; Captain William Wilson facilitated the meeting.
Captain Wilson presented an outline of topics for the group of attendees, covering current events, political considerations and financial concerns of the Police Department.  In what appears to be an effort to develop an open and honest transparency of the City's law enforcement group, Wilson encouraged everyone to be "the best thing" for their city by "being involved, being knowledgeable, and putting the right people into the right places" to take care of community concerns.

Head of Traffic Cameron Nelson spoke to the gathering about traffic matters in Rialto, including areas of concentrated effort in patrol to reduce accidents and traffic laws enforcement.
"With summer coming, I want to encourage everyone to watch out for pedestrians," said Nelson, "Pay attention, pay attention. There will be a lot more foot traffic to consider with school letting out soon, so please be especially aware on our major thoroughfares like Baseline, Foothill, and Riverside Avenues."
He also shared an upcoming event on Tuesday, May 29 at 7 p.m. for mature drivers. Officer Jerome Wilson is coordinating this CarFit seminar with a goal of helping mature drivers with safer driving tools and eventually getting Rialto Police Department a certification that will allow insurance companies to provide drivers with a discount on their policies.
Local residents and businesses asked questions about their concerns, some of them shared traffic issues they had experienced with traffic officers and discussed possible solutions to those problems.  The law enforcement representatives stayed to speak to those who wanted more information or needed questions answered.
"Coffee with the Chief" is a recurring event that takes place every second Tuesday of each month at different locations throughout the city from 8 a.m. to 9 a.m.  If you have any questions about this, please contact Jeanette Lopez at 909-820-2565 or email her at jlopez@rialtopd.com.