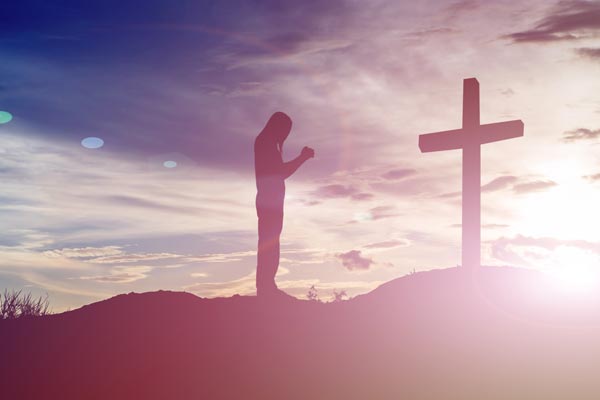 The idea of life forever is basic in the annuals of ancient history. It is not new to Christianity. The Sumerians, Egyptians and Greeks affirmed it in their writings. The difference is the resurrection. That is fundamental to Christianity.
The other Sunday, as the minister was greeting the scattered early attenders when he came to me, in a rather jocular voice, I asked him if he believed in the resurrected. He immediately stared at me, unzipped his robe and acted as if taking off his robe, and turned away. I got his reaction. He was saying, "I may as well renounce my calling as to deny the resurrection."

That's what the Apostle Paul said, "If Christ did not rise, then our faith is in vain." Meaningless.
The eleventh chapter of the Gospel of John has a provocative story involving Jesus, Lazarus, Mary and Martha. Jesus and His disciples have received word that their friend Lazarus is critically ill. Jesus is rather indifferent and takes His good old time getting to Bethany, where Lazarus, Mary and Martha live.
When He finally gets there, the sisters bemoan His tardiness and tell Him that Lazarus has died. Jesus weeps.
The end is dramatic, Jesus raises him from the dead. A few years ago, while visiting Israel, I decided to visit Bethany. I caught a bus in Jerusalem and I was the only passenger. Slowly we went down from the hill to toward the valley of Jericho. Winding, we finally stopped and the driver told me we were at Bethany.
Curiously I asked the driver why I was the only passenger on the bus. He looked at me in amazement and said, "Haven't you heard? Arafat (the terrorist) was here last night and most people are scared he still might be here."
I'm sure that I turned whiter that I am. I got off and saw a huge historic Church. A priest came out and asked what I was doing there. I assured him that I had only one purpose. I wanted to see where Lazarus had been buried. I was NOT a terrorist.
He pointed up the hill to a cave about 75 yards from the church. An elderly lady greeted me and she expected a donation, which I readily gave her. I went in the cave that 2000 years before had been a burial place for Lazarus. I bowed my head in prayer and thought of Jesus being there those years before.
Very little is known about Lazarus after his resurrection. But, a unique feature of antiquity was the tendency to glamorize fictional events by turning them into history. So, it seems with Lazarus.
One such example was told by St. Epiphanios of Cyprus (367-403). Lazarus was thirty years old when he rose from the dead. He then went on to live thirty more years and died naturally. Another tradition says "Lazarus fled the anger of the Jews and took refuge at Kition in Cyprys around 33 A.D.
Continuing with the narrative, while in Kition, Cyprus Lazarus met the Apostles Paul and Barnabas as they were traveling from Salamis to Pophos. He was ordained by them the first Bishop of Kition. Supposedly, "He shepherded the Church of Kition with great care and love for eighteen years until the end of his life."
One tradition states that Lazarus was sullen and never smiled after his resurrection. This was due to what he had seen while in Hades for four days. Witnesses say he never did laugh, except one time when he saw a man steal a clay vessel, as he uttered the following words, "one earth steals another." Understanding this phrase is beyond me.
In the Eastern Orthodox Churches, his memory is celebrated every Saturday before Palm Sunday.
My favorite narrative about Lazarus is purely secular. It is recorded in Eugene O'Neill's dramatic religious drama, "Lazarus Laughed." The drama never reached the heights of fame that marked O'Neill's success. He was born in 1888 and died in 1953. "Lazarus Laughed" was written in 1925 when O'Neill was 37 years old. While it is often described as a Greek tragedy, the theme, that is reinterpreted again and again, is very positive. It is also a classical portrayal of the Christian concept of life everlasting.
The message of Lazarus Laughed is fundamentally Easter. Caligula, the Roman Emperor to be, is parading in Athens, Greece. In his arrogance, he demands for everyone to bow down when he comes riding by.
Lazarus, who was raised from death by Jesus., refuses and Caligula is fit to be tied. He demands who the man is that will not bow and condemns him to death.
Lazarus just laughs, and says, "O, Caligula, don't you know that death is dead." Meaning he's been there and has no fear of death.
THE CLIMAX OF THE STORY IN JOHN 11 IS POWERFULLY WRITTEN. JESUS SAYS TO MARTHA AND MARY, "I AM THE RESURRECTION AND THE LIFE; HE THAT BELIEVES IN ME THOUGH HE DIES, YET SHALL HE LIVE. AND WHOEVER LIVES AND BELIEVES IN ME SHALL NEVER DIE." LAZARUS' NAME IS HEBREW AND MEANS, "GOD HAS HELPED."
Amen. Selah. So be it.