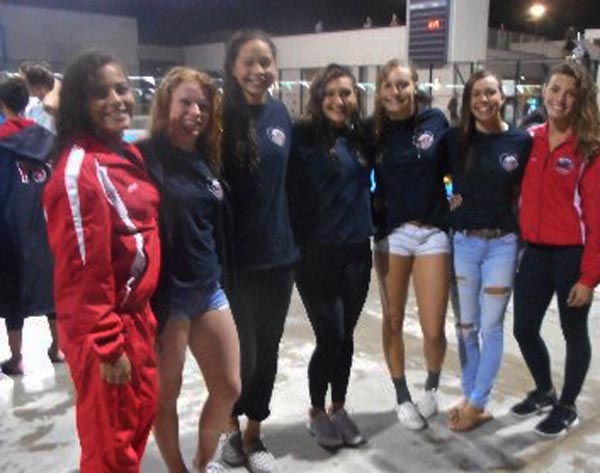 Redlands East Valley High School girls swim team not only captured the Citrus Belt League championship this season, it swept all 11 events at the league finals will send nine swimmers to the CIF-Southern Section prelims and at least five within reach of advancing to the state championships.
REV must first swim grueling time standards at the prelims to qualify for the CIF-Southern Section championships on May 12-13 at Riverside Community College Aquatics Complex. Using last season's CIF-SS results, REV swimmer's are in position to challenge at least three Section records. REV's boys finished second to Redlands in the CBL finals held Friday at Crafton Hills College Aquatics Center.

The Redlands boys win at the finals was just as convincing where it swept the three relays and earned individual wins from Sofiane Dissem, Yousef Hassan and Daniel Pry. Redlands coach Austin Brown credited REV's girls performances at the finals as being reminiscent of the dynasty established at Redlands when it won 19 CBL swim titles in 21 years under former coach Erik Dahnke.
However, the REV girls came to the finals laps ahead of the seven-school CBL, owning many of this season's Inland Empire best times. REV athletic director Rhonda Fouch called the Wildcats a group of superstars. "When we won the Mission Viejo Tournament this year, we knew for certain this team was special," assessed Fouch. "You can call our girls a bunch of dedicated, high achievers, who receive enormous support from the community."
REV will be going into the CIF championships after Alexa Malera set a new Inland Empire season record in the 100-yard Breaststroke. Also at the CBL finals, REV set new IE marks in the 200 and 400-yard freestyle relay and just missed a new mark in the 200 Medley Relay. According to stats provided by reporter Gabriel Rizk, the REV girls own or in second place in every IE swim category. Six REV girls have made cuts before as club swimmers at the Junior Nationals.
REV coach Brad Terwilliger said he did not know if any school had ever swept at the CBL finals. "I'm not sure. It's the first time for REV. Yes. We have a lot of fast swimmers." Terwilliger pointed out that many of his team posted their best finishing times at the finals after a week's rest. He acknowledged that REV's big victory at Mission Viejo came when many of the CIF's top swimmers were not entered. But a look at the CIF State Championships qualifying time standards shows that a minimum of three REV girls could advance to the Third Annual CIF State Championships, May 19-20 at Clovis, CA.
Junior Autumn D'Arcy is one of those nine REV girls who qualified for CIF on Friday, where she set a new personal best in the 100 Yard Free. D'Arcy holds the area's second best time in the 100 Free. She has the region's best times in the 200 Individual Medley, 50 Free, and 100 Butterfly. D'Arcy was a member of REV's 200 Free Relay team that surpassed its previous best on Friday. Other relay team members were Liberty Williams, Mikayla Jean, and Jenna Sanchez.
D'Arcy joined Williams, Sam Nickell and Sydney Benveniste at the finals to swim a 3:32.81 in the 400 Free Relay, cutting its previous time of 3:33.52. REV took the 200 IM Relay with a team of Alexa Melara, Nickell, Benveniste, and Sanchez. Williams swept the 200 Free and 500 Free, coming within a tick of equaling her IE best.
Nickell was not pushed by winning the 100 Backstroke at 57.87, just over her season best of 56.52 which is the IE's second best overall. Benveniste advances by equaling her season best 55.92 in the 100 Fly, which is No. 2 in the region behind D'Arcy's 54.57. REV senior Emily Rigsby and frosh Nicole Longfellow rank among the IE's top swimmers and had already qualified for CIF-Prelims. Benji Duenas led REV's boys at the CBL finals after he won the 100 Fly and 200 IM. Teammates Daniel Precie won the 200 Free and Jade Williams the 500 Free. REV's boys finished with 528 points well behind Redlands 678 and just ahead of 505 by Citrus Valley.
Redlands was the narrow overall points leader with 1,289.5 to REV's 1,288 and Citrus Valley's 907. Redlands coach Austin Brown said his team succeeded due to cumulative points earned by his six relay teams. The boys were interchangeably comprised of: Jack Topoleski, Matt Keeling, Dissem, Hassan, Pry, Kyrellos Ibrahim, and Sean Edwards. Redlands girl relay swimmers were: Sydney Weissman Maddie Montano, Danielle Ford, Tori Padilla, Serena Plumb, Kaylee Reeves, Elizabeth Pry, Salma Hassan, Lyn Taguines, Demiana Ibrahim, Alex Zak, Ashley Jeon, Johannah Moynihan, and Ria Laxa.
Citrus Valley was represented by Talon Weck and Austin Gile who took the top two finishes in the 100 Breast. Weck also finished second in the 50 Yard Free. Its 200 Free Relay and 200 Medley Relay teams finished second, comprised of Weck, Giles, Lucian Cao and John Lama. Citrus Valley's girls were led by Kayla Ramos who finished second and third in the 100 Back and 100 Fly. Melanie Gonzalez took second in the 100 Fly. Ramos and Gonzalez teamed with Kenzie Herndon and Danielle Wheeler for second place in the 200 Yard Medley Relay.