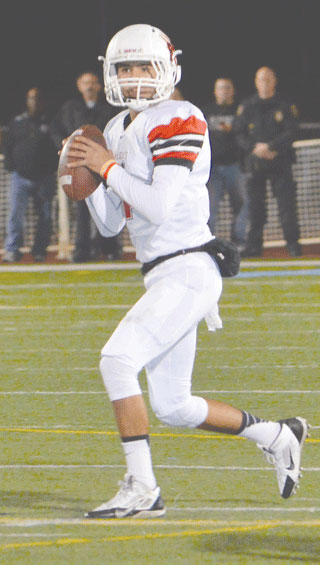 Armando Herrera, a senior football player at Redlands East Valley High School is climbing up the all-time state passing leaderboards and along the way is listed with some pretty recognizable names. Six games into the 2016-17 season, Herrera ranks 5th all-time among passing yard leaders in the California Interscholastic Federaton-Southern Section (CIF-SS). This season Herrera passed former Orange County football phenoms Todd Marinovich and Matt Barkley with 9,666 career passing yard total. His 270 yard output against Carter High School two weeks ago put him past the 9,270 yards that former El Toro HS quarterback Conner Manning produced.
Herrera should soon pass No. 4 Chris Czernek's 9,821 yards and by game 9 this season should pass Keith Smith at No. 3 career mark of 9,971. Then it will get more difficult if Herrera should become the top career passing yards quarterback in Southern Section history. At No. 2 is current NFL player Jimmy Clausen who threw for a lofty 10,764 yards while playing at Oaks Christian HS before earning the starting job at Notre Dame.

Herrera could become the Section's all-time record setter in two categories and reach the top-4 in two others. He needs 1,162 yards to surpass the career total of 11,003 yards set by Michael Herrick from 2003-05 while playing at Valencia HS in Valencia. With Redlands East Valley almost assured of at least one post season playoff game, that could give Herrera enough games to become the Section's all-time leader. Thus far, he is averaging 274 yards passing per game. If he can maintain that average it would hypothetically put him at No. 1 all-time with 11,036 yards.
Some reporters pointed out that Herrera had the advantage over most since he played as a freshman, giving him a year extra worth of passing statistics. Upon examination of the Maxpreps stat clearinghouse, Herrera played only 12 games combined his frosh and sophomore seasons, giving him little advantage. Marinovich played fours years combined at Mater Dei and Capistrano Valley and Clausen was also a four year player.
According to ESPN, Herrera is tied on the state single season list for touchdown passes thrown with 42 in 2014, tying him with Pat Haden, the former Bishop Amat HS, USC and Los Angeles Ram. They are exceeded by Jared Goff's 44 and Derek Carr's 46. CIF-SS records show that Herrera has broken nearly every career passing record in San Bernardino County. He has not reached the single game passing yards set by Robert Fuller, who threw for 604 yards for San Bernardino High School against Pacific in 2006, and the 527 yards that Cajon's Angel Reyna tossed against Rialto HS in 2001.
Herrera has also established most passing records for the two-county region of the Inland Empire. He will not exceed the single season touchdown record held by Sean Sudol of La Sierra HS who threw 48 TD's in 2006. Herrera did pass Sudol's IE career mark of 93 touchdown passes with 98, thereby moving into 5th place all-time in CIF-SS. Herrera will finish 3rd all-time behind the 134 TD's thrown by Robert De La Cruz and Clausen's 146.
Herrera will move up the Southern Section career leader list in passes completed and passes attempted. His current 642 completions move him ahead of Clausen, Marinovich, and Keith Smith into the No. 2 spot, well behind all-time leader Michael Herrick's 806. Herrera's 1,058 attempts put him position to move past Marinovich's 1,188 and theorically could pass Herrick's 1,279 record number of attempts.
Playing hurt as a sophomore and junior, Herrera still managed to put up very productive numbers, especially when Redlands East Valley played 16 games to win the 2014 California Division 2 State Championship. It appears that Herrera is the only quarterback on the top-10 leaderboard to have a state title.
When reached for comment, prep sports authority Ronnie Flores said if Herrera's stats are accurate according to verification, he is probably not getting the notoriety he deserves. Flores is the Southern California managing editor for Stockton-based CalHi Sports magazine, which is also the only statewide center for prep career football records. Flores said he will now watch for Herrera and will notify CalHi publisher Mark Tennis about him. Efforts to access the CalHi state record book were unsuccessful and Tennis did not reply.
Flores said that Herrera passing high school records of those like Marinovich and Barkley is already an amazing feat. "I can't think of two guys in the recent lores of high school football that were more highly publicized than Marinovich and Barkley. Marinovich was a number-1 draft pick in the NFL and Barkley played there a few years," said Flores. "They both played at USC. Herrera is a good high school player but he won't start at USC. There is always a place for a good high school football player and that's what we try to do."
Flores said it is unfair to Herrera to compare him to the NFL quarterbacks whose records he is surpassing. He says for a number of reasons, players in San Bernardino County don't get the exposure of those in Orange County, where there are more cameras.
He said it helps that Marinovich and Barkley attended Mater Dei HS in Santa Ana. Flores insinuated that the whole college recruiting process and mentality could detract from Herrera. At last check, Herrera had not committed to play in college next year. REV coach Kurt Bruich would not comment after numerous requests.